Chairman's Blog December 2016
This year has been a challenge in terms of upholding the traditions of the built environment in Milton Keynes, but I would like to thank all the friends and supporters of Urban Eden for your active involvement in our campaigns.  I would like to wish you all a very Happy Christmas and a prosperous New Year.
I do not have an article in MK Business News this month, so my next blog will be in January 2017 and will be in the best traditions of Urban Eden.  I will continue my endeavours in 2017 to hold the feet to the fire of those with responsibility, who would ignore or undo the features of Milton Keynes, which have stood us in good stead for 50 years.  If you want to have a look at the official website for our 50th birthday, click here. Cheerio.
X X X X X X
Chairman's Blog November 2016
Milton Keynes Council has been slicing and dicing its budgets for years in order to save money and now there is very little left to cut.  It says that in the past six years its funding has been cut by £38 million, the increased demand on services in that time has cost £73 million and thus the council has had to find £111 million of savings.  The current budget is £175 million with, it is claimed, a further £49 million of savings required over the next four years.
Now the council could raise its council tax but the problem for it is that council tax increases are capped.  Central government dictates that if a proposed increase is more than two per cent, the council has to hold a referendum.  This is extremely costly and, because turkeys are unlikely to vote for Christmas, it would probably produce, for them, the 'wrong' result.
One area in which it could make some further cuts is on non-statutory services; those services such as grass cutting, infrastructure maintenance and refuse and recycling collections which are, unbelievably, purely discretionary.  Thus around the country we have already seen similarly 'strapped' councils cutting  refuse collection to once a fortnight or even once a month.  And heaven help you if you miss that.
If that were to happen here it would certainly give residents cause to wonder just what they do get for their oh-so-expensive council tax.
However, someone at the council has come up with what they must have thought was a wizard idea.  They would approach the 48 parish and town councils in the borough and offer them more power – oh, and more responsibility.  The idea was to devolve the cost of non-statutory services to the parish and town councils whose precepts are at present not capped. You will find your local parish or town council precept listed on your council tax bill as a separate item – each varies. But it is still a tax.
The fly in this ill-thought-out ointment is that government is now consulting (September 2016; Department for Communities and Local Government: The 2017/18 Local Government Finance Settlement Technical Consultation Paper – Pages 13/14) on a proposal to cap parish and town council precepts too.  If their precept is increased by more than 2pc it looks very likely that they would also have to hold a referendum.
In the meantime, however, a parish precept increase of £75 per annum per band D household, to cover services to be no longer provided by Milton Keynes Council, had been suggested by a senior officer in informal meetings with selected parish and town councils.  However, this was later angrily denied by a council cabinet member.
Despite this denial, at the recent Parishes' Forum some parishes were reported by attendees to be incandescent about the way proposals suggesting parishes pay for services had allegedly been proposed by Milton Keynes Council.  In response, the MK Association of Local Councils has said it is arranging a conference in March next year to discuss the whole issue of services and funding.
Since the Parishes' Forum debacle, it has now been suggested that no services will be put up for consideration to be taken over by parish and town councils in this budget round.  I am told that Milton Keynes Council now understands that the parishes are arranging their conference in the New Year and that the council's 'shopping list' should be prepared by then, hence there being nothing formally on the table at the moment.
To these eyes, it seems the borough council has done a major U-turn on outsourcing service funding which was being proposed for the financial year 2016/17 and has backed down for the foreseeable future.  At least this will give them a little more time to work out a proper solution to their financial black hole.
In the meantime refuse to let the refuse pile up.  Cheerio.
X X X X X X
Chairman's Blog October 2016
You recall that I wrote in the previous edition of Business MK about plans by neighbouring boroughs to 'dump' new communities right on our borders.  The advantages for them would be that they will collect all the council tax and government house-target 'brownie points' – Aylesbury Vale, for instance, is required to expand by 33,000 new homes.  By contrast, the citizens of Milton Keynes will collect all the grief; overcrowded roads, buses and trains; overwhelmed doctors' surgeries, hospitals and emergency services and schools and colleges at breaking point.
As I predicted, the revised application for South West Milton Keynes (formerly Salden Chase) has now been submitted.  Read the details at www.southwestmiltonkeynes.co.uk and the determination to ignore the much-loved elements of our original master plan are evident.
Nevertheless the members of the consortium responsible promote only the good things which, according to them, include the following (my comments in parentheses):
Up to 1,855 homes, up to 30 per cent of which will be affordable housing (Call me cynical but 1pc can be called 'up to 30pc');
Land required to provide a route for a Bletchley Southern Bypass;
Land reserved for a six-GP surgery (but, I note, no plans to actually build one);
A primary school with early years provision;
A site for a secondary school (but no plans to actually build one);
An employment area;
More than 53 hectares of green space including parkland, sports and recreational facilities.
Vanished: of particular note is the fact underpasses are no longer in the plan.  The underpasses planned for the new 'grid road' through the development – a southern extension of the V1 Snellshall Street in the old version of the plans – have now mysteriously vanished.
The grid road extension would form part of the Bletchley southern bypass linking the A421 and the A4146, if this is ever built.  Instead it is now proposed to add underpasses in later if the road is ever extended south of the railway and dualled.  So dangerous and traffic-slowing at-grade crossings are to be provided with underpasses possible at a future stage.
This is the same approach used on other developments in the expansion areas as decreed by the appalling, now departed, Milton Keynes Partnership, a wholly owned subsidiary of English Partnerships and responsible for much that is wrong with Milton Keynes.
The argument being that 'someone' will pay for the underpasses later but the intention is obvious – they will never be built.  The clear desire is also to ignore the much touted entreaties of our two local MPs of 'Infrastructure before Expansion'.
I will give praise where it is due, however, and one small improvement is the replacement of the Buckingham Road signal junction with a roundabout.  However, this will have at-grade pedestrian crossings over both the new road and Buckingham Road.
The current scheme is significantly smaller than the original Salden Chase first proposed in 2007 – the thinking being, I suspect; to 'ever so slowly boil the frog'.  The South West Milton
Keynes proposal takes up the land between H8 Standing Way, Newton Road, the edge of Bletchley and the Oxford-Bletchley railway – soon to be expanded to Cambridge as the revived Varsity Line / East-West Rail.
There is no planned station for the development despite it being right next to this rail line and having almost 2,000 homes in its first iteration, a further example of cost-cutting at the expense of future-proofing and providing good infrastructure.
I repeat my call for Milton Keynes to have its borders expanded to include areas targeted for actual expansion of our city.  It is the only action that makes sense.  If you agree, let your MP know.  Cheerio.
X X X X X X
Chairman's Blog September 2016
As many of you will know, Milton Keynes Council is desperate to fulfil some sort of lemming-like requirement to never stop expanding Milton Keynes.  But it is not only infill and expansion by our own council of which we should be scared. Soon, it seems, Milton Keynes is to be afflicted with several swellings on its flanks, afflicted by others.
Central government sees Milton Keynes as a place where more residents can be dumped from crowded andrapidly-becoming-unaffordable nearby cities.  Government ambitions to build more than 40,000 new homes here before 2031 – that equates to 1,750 dwellings a year – have provided the stimulus for the council to create the somewhat stuttering Plan:MK.
The desperation to hit targets is already showing, resulting in aggressive house building firms busily buying up and optioning every available potential site in order to capitalise on this mindless expansion and in-filling.  Bizarrely, of course, this will inevitably result in Milton Keynes becoming a crowded and unaffordable city itself.  Cheers, central government. Cheers, aggressive house builders.
But Milton Keynes is not alone.  The boroughs that surround us are under pressure to expand too.  And Milton Keynes is sitting there with its already developed land oh so close to their borders, like a great fat, sacrificial goat.  Aylesbury Vale, for instance is required to expand by 33,000 new homes.  And where better to dump them than right on Milton Keynes' doorstep?  After all, they will collect all the council tax and government house-target brownie points; we will collect all the grief: supplying transport links, doctors' surgeries, hospital, fire, police, ambulance, schools and colleges, railway stations et-bloody-cetera.  What could better suit the burghers of Aylesbury Vale?
The existing plan for 1,885 homes in the so-called South West Milton Keynes – or 'Son of Salden Chase' – scheme, about which I have written previously, is still not decided.  Meanwhile 268 homes are already being built south of Newton Leys, outside our boundaries.
But why stop there?  There is yet another newly announced plan for a further 2,000 homes in Shenley Road, Whaddon, tucked up against Milton Keynes, yet just outside the borough boundary.  And, apparently, Milton Keynes is to enjoy the benefits of Aylesbury Vale's two 'traveller' sites nearby too.  Nice one, Aylesbury Vale.
But the threats are not just from the west.  In the east is the just announced plan from specialist planning company Berrys to build two new 'garden communities' east of the M1 with 10,000 homes between Cranfield and Bedford.  The bait for this expansion of Milton
Keynes into Central Bedfordshire is an offer to construct a new hospital to serve both Milton Keynes and Bedford as well as a major university campus, such as should properly be built in central Milton Keynes on the large empty site between the:hub and the rail station.
There is, of course, also the recent proposal of Gallagher Estates to build a 'daughter Milton Keynes' of up to 20,000 new homes in the north, between Castlethorpe and Little Linford, admittedly on Milton Keynes Council-controlled land.
Surely a city the size of Milton Keynes, with plans to expand its population from the current 260,000 to well over 350,000, should control its own borders and what adjoins them.  Surely
Milton Keynes' boundaries must be urgently expanded if we are to have all these developments tacked on to them.
I asked local MPs Mark Lancaster and Iain Stewart for their views on this.  There are, I argued, precedents for this: many London boroughs, for instance, were formerly parts of Middlesex County Council or Surrey boroughs.  Mr Stewart, MP for Milton Keynes South, was on holiday.   Mr Lancaster, his counterpart in Milton Keynes
North, could not be contacted over several days, despite appearing on BBC Look East in between being asked for a quote and the deadline for this article.
Hmm, a hot potato, gentlemen?  You bet.  This issue will not disappear soon and may yet burn a few fingers.  Cheerio.
X X X X X X
Chairman's Blog August 2016
Avid readers of this column may recall that last year I opined that neither council leader Peter Marland nor the current chief executive nor her predecessor had a 'vision' for Milton Keynes.   It seemed that, stung by my constant suggestion that someone, anyone, in power needs to develop a 'vision' such as was held by the original Development Corporation, a Vision Commission was proposed.  Perhaps to save face it was hastily, and clumsily, dubbed The MK Futures 2050 Commission.
Now its nine-member team has issued its report.  I went to its grand launch at the Open University last month.  Its key messages, trumpeted somewhat in the style of a politician declaring that he loved both grandmothers and apple pies, are six very hard to hate 'Big Projects':
Hub of the Cambridge-Milton Keynes-Oxford Arc
MK:IT
Learning 2050
Smart, shared, sustainable mobility
Renaissance:CMK
Milton Keynes: Creative and cultured city
These all have merit but there is nothing very new about them.  Milton Keynes has been seen as a midway point between Oxford and Cambridge for years, not least during the days of Station X, Bletchley Park or the soon to be restored Varsity Line rail link connecting the two Beacons of Academe with the less academically inspiring Milton Keynes.
Project Two promotes a new university and central campus modelled on, and cleverly named after, the Massachusetts Institute of Technology (MIT); hence MK:IT.  It would be very good for Milton Keynes and alongside the Open University and Cranfield may provide a draw for technology start-ups.  If built, it really must be on the B4.4. site across Witan Gate from Sainsbury's and the:hub.
Which brings us to more hard to hate apple pies.  Learning 2050 suggests strong links between schools and MK:IT.  Custard or cream with that?
Smart, shared, sustainable mobility is more contentious.  Instead of saying we absolutely must have a tram system and we absolutely must have our electric buses going along Midsummer Boulevard through the arch over intu, which was always intended for such use, it beats around the bush with a word for every alternative that either already exists or has been planned for a while.  Surely the  Commission realised that in order to make omelettes, it must break eggs.
Renaissance: CMK nods to the CMK Alliance neighbourhood plan but although the commission promotes heavy inward investment into a revitalised, densified and exciting 24-hour economy, it fails to see the contradictions with its policy principles on maintaining green spaces nor addresses potential congestion, some of which we are already seeing and which will increase at a population of 400,000.  Milton Keynes: The creative and cultured city.  More apple pie and smiling grandmothers…
I applaud the efforts by the Commission members.  I applaud their research, dedication and commitment.  I am however saddened that they believe that densification, demolition and infilling of failing estates and expansion outside the city will protect the things we citizens hold most dear.
At a discussion with commission members I learned that they thought expansion was good and inevitable because if we only build homes for the children of those already here we will fail to bring in investment and Milton Keynes will stagnate.  But I do not believe they have considered the consequences of not extending the cut-off grid roads, reducing polycentrism in place of a standard 'city centre magnet' model and thinking that a few driverless pods solve the major parking issues.
However they have one surprise up their collective sleeve: a new, locally controlled, Milton Keynes Development Corporation.  I agree.  Wholeheartedly.  Just so long as it is not the renamed Milton Keynes Development Partnership, which so far has failed to effectively use the huge land bank it controls in the three years it has existed.
Its ludicrous plan for a pair of skyscrapers on Midsummer Boulevard is fine in principle but with no effective transport solution will simply create gridlock.  To be Manhattan or London requires an underground rail system, trams or a monorail.  Are we getting that?  Clearly not.  What if we had a mayor?  This was asked of the commissioners whose response was: "There are good and bad mayors.  We might get a bad one."
Not to worry, I am sure the council will carry on blithely compromising in its time-honoured make-do kind of way.  Cheerio.
                                                         X X X X X X
Chairman's Blog June 2016
WHILE at a very well-attended meeting featuring politicians on each side of the Brexit debate, organised by civic society Milton Keynes Forum, it occurred to me that some may not be aware of the sterling work the forum does here.
It was founded in the late 1980s, an initiative by three well-connected citizens Robert de Grey, Alan Francis and Robert Phillips.  They were concerned about what would happen to the city in the wake of the government announcement of the then proposed winding-up of Milton Keynes Development Corporation in 1992.
At first its focus groups concentrated on health and wellbeing; housing; the physical environment; structures and the local economy.  It gained wide support from residents, diverse organisations, companies and Milton Keynes Council – the latter having the right to elect three members to its committee.  Public meetings were held on topics ranging from education to local governance, care in the community, housing and public art.
Over the years the focus groups closed, leaving Milton Keynes Forum to focus on the physical environment, an area it felt was its natural heartland.  It concentrated on the way in which the city is developed going forward.  Members include planners, architects, engineers, surveyors, environmentalists, business people and those with an interest in the built environment.
In the 1990s the forum took the initiative in proposing the listing of thecentre:mk and one of its members Margaret Antalopoulos  – who sadly died last month – persuaded many architects to support the eventual grade II listing in 2010.  The forum regularly makes representations on planning applications  – not only the major ones such as the intu Milton Keynes extension and Primark but also on more modest buildings where it feels that changes might destroy the character of the buildings.  It is not opposed to changes or demolition but is concerned that replacements should be of a high quality.
At the forum's initiative, the council inserts a special planning condition to ensure that, where key buildings are to be changed, there is a formal record of the building in its original state, something which chimes with my own call on house building numbers that we cannot know where we are going unless we know where we are now.
Milton Keynes Forum makes many aware of the city's unique architectural heritage established by the development corporation.  It anticipates playing a key role in the council's exercise to identify suitable buildings for the Local Heritage List of the New Town era (this is the step below formal listing).  It held a highly successful and entertaining meeting 10 Buildings:10 People:10 Minutes at MK Gallery last year in which ten local people with an interest in buildings in Milton Keynes were asked to identify ten buildings that they admired. I was honoured to be one of those speakers.
Milton Keynes Forum believes that design is important at all levels and deplores the way in which the well considered grid road signage designed by Milton Keynes Development Corporation is being replaced with an unco-ordinated set of signs of little design merit.  It was responsible for getting the sculpture Octo above listed, having appealed against Historic England's initial decision to refuse listing.  Perhaps more controversially, the forum has caused a stink by proposing listing of the Cotton Valley Sewage Works.
Its current campaign Outrage MK takes its cue from a 1955 Architectural Review in which journalist Ian Nairn raged about the fact that all places were starting to look the same or, in the words of another critic Paul Finch "How can we make this city more like itself rather than more like somewhere else"?
Milton Keynes Forum takes a keen interest in city expansion and inputs consultations held by the council, most recently into Plan:MK: Site Allocations Plan and the Central Milton Keynes Transport and Parking Strategy.  In 2011 it published its own vision for the city centre CMK Revisited which formed the basis of the eventual Business Neighbourhood Plan.
The forum's current chair is Tim Skelton who has been on the committee since the 1990s. However, I give the last word to the forum's co-founder Robert de Grey, who has also been a borough councillor, school governor and the inaugural chair of MK Gallery.  "Milton Keynes Forum was set up to help give people the tools to challenge the prevailing orthodoxy among decision-makers in Milton Keynes," he says.  "In some quarters, we were not very popular, but with supporters such as Lord Campbell and Sir Ralph Verney we got the feeling we were listened to from time to time.
"We are now over-consulted on everything but not necessarily listened to.  So the forum has changed its role. Its focus is much more that of a conventional civic society, persuading the authorities to build an environment of quality while conserving that of the last 50 years.  However, I do regret the early days of the Forum, when we had a lot of fun tweaking a few tails."
Cheerio.
X X X X X X
Chairman's Blog May 2016
I appear to have stirred up a bit of a hornets' nest at Milton Keynes Council.  You may recall that in my last two columns I have discussed the council initiative Plan:MK, the new Local Plan for the borough covering a period of 15 years from adoption.  It sits alongside the Core Strategy, adopted in 2013, which sets out the strategic planning policies currently used to guide development in the borough and the Site Allocations Plan.
The simple question I asked was this: if we are to know how to respond to the questions asked about expansion in Plan:MK's public consultation (now closed), surely we cannot do this meaningfully unless we know exactly where we are right now?  To that end I attempted to find out exactly how many new homes have outline or full planning permission but have not yet been started.
That is a very simple question, you would think, wouldn't you?  Believe it or not; the council appears not to have these figures.  One effort was made to discover the numbers, based on a graph taken from Plan:MK Topic Paper – Issues Consultation Growth in Housing (Sep 2014) – produced by the council.  I gave details of this last month.  It showed an alleged 50,000 to 60,000 unbuilt dwellings in the pipeline.
Urban Eden has also submitted a Freedom of Information request to the council, as yet unanswered, for the same numbers.  However the council, in an effort to parry my 50-60,000 assumptions has issued some new, and various, data.  This is now the Plan:MK website.  It reads: "Milton Keynes Council monitors MK's housing stock and future commitments each quarter, and once a year publishes projections as part of our assessment of 5-Year Housing Land Supply.  Because we look at every site, this projection is very accurate.  We use this information to chart the relationship of outline planning permissions, full permissions, and completions over time.  The data shows a trend using a snapshot in time for each year and should not be added to make a cumulative tally.  We believe this is where the incorrect figure of 60,000 comes from."
The council goes on to explain that total housing land supply in the borough as of April 1 this year is for 21,872 dwellings (that, by my reckoning, provides almost 13 years of agreed housing supply).  Of the total, 14,754 have planning permission (3,707 of which have full permission) and the remaining 7,118 dwellings are to be delivered on sites allocated in the Local Plan or in Neighbourhood Plans.
Fair enough, you might think. So "this projection is very accurate", is it?  Contained within a report to councillors, circulated almost simultaneously, is the information that as of April 1 land was available for 22,951 homes, of which 3,017 have full planning permission.  A total 5,230 will be delivered through Local Plan allocations, deliverable brownfield opportunities and windfall allowances.
So we seem, according to the council's latest figures, to have lost, or gained, over 1,000 homes – a not inconsiderable sum, constituting developments covering several acres.  How might one explain that, except as somewhat confused and confusing?
In the meantime I have discovered something else, rather unexpectedly, which also goes further towards supporting the suggestion that developers might be 'land banking'.  It appears that, on August 8 2013, councillors unanimously agreed to extend the 'longstop' date (the deadline by which developers had to complete housing) in the Western
Expansion Area as follows: "The applicants only have an eight-year period to build out over 6,600 homes before the longstop date takes effect.  This will cause financial difficulty to the applicants and they wish to see an extension of the long stop date to 2031".
"The Officer recommended that a Deed of Variation be agreed in relation to extend the longstop date to March 31 2031 on the two above applications, to be reviewed further if required at any point after March 31 2029."
So is the tail now wagging the dog?  It all gets stranger and stranger.
Cheerio.
X X X X X X
Chairman's Blog April 2016
IN MY column last month, I asked whether Milton Keynes is big enough.  This month I have discovered much, much more to suggest that it possibly is.
The chart below shows that, with an annual average of 13,000 outline consents over the last five years but with completions running at less than 1,000 annually, Milton Keynes has at least 13 years of developable sites available to it. According to some calculations from local groups based on the council's own figures, there are approximately 50,000 to 60,000 houses in the planning pipeline, not the repeatedly stated 20,000.  Thus no more are needed to reach the optimum size for Milton Keynes by circa 2037.
The issue then becomes the alleged failure of house builders to actually build homes for which they have outline permissions and bring such housing to the market.  The question this raises is whether house builders are 'land-banking' and whether the council is either colluding with this (disgraceful), acting in utter ignorance (unlikely), or obsessively seeking new lands to cover in houses when there is no actual need (with this council, who knows?).
Click here to see the council's own graph: Council's own graph
Click here to see Running Annual Status at 31st December 2015 (MKC Housing End of Year Monitoring).  This graph is an analysis of the difference between completions achieved against target (31st December: 55.6%).  It is taken from Plan:MK Topic Paper  Issues Consultation Growth in Housing (September 2014).  With an alleged 50,000 to 60,000 unbuilt dwellings in the pipeline, surely the council must call a stop to its ceaseless quest for new lands to conquer.
In 2005 Milton Keynes was achieving around 43 per cent 'Outline Planning' to 'Completions'.  In 2006 that percentage fell to 30pc. If this was happening now, it would deliver not the current 827 units but circa 5,000.  Alarmingly in 2013 the relationship between 'Outline Planning' and 'Completions' was just 7.5pc.  Is any more evidence required?
Developers appear to be land-banking as they did prior to the 1980s crash and choosing not to build yet on sites already allocated.  I asked the council's director, planning and transport Anna Rose at a recent private meeting what our assumed housing needs would be if the British voted for Brexit.
Interestingly, she could not say.
Given all of the above, the scale of the options in the Plan:MK consultation must now be seen as excessive and unnecessary until robust evidence is available to clarify whether such high levels of growth are needed in addition to the present planning pipeline in preparation for post 2031.
Gridlock:  Other questions also need to be asked. What, for instance, is the maximum housing capacity for Milton Keynes beyond which housing growth negatively impacts movement and ultimately leads to economic gridlock?
Once, we had a polycentric city which in theory might be infinitely expanded.  But with the permanent blocking-up or City Street downgrading of so many of the nub ends of our grid roads and failure to dual those always designed to be dualled, Milton Keynes no longer can contemplate such extreme expansion.
Originally, Milton Keynes was designed to support a population of some 250,000.  This has now been exceeded as we are already at 260,000 and the Eastern and Western Expansion Areas are far from complete.
With the proposal for an additional 20,000-plus houses on top of those 50,000-60,000 yet to be built and with neighbours like Aylesbury Vale planning to 'dump' hundreds of homes on our borders – all using our schools, hospital, healthcare, fire and police – the smooth running of our city is now at serious risk. Current permissions alone will likely take our population to well over 350,000.
Unless Milton Keynes Council can categorically disprove these numbers, which are based on their own figures, I suggest a moratorium on outwards expansion unless and until a proper case can be made based on all the facts.  Plan:MK must be put on hold.
Cheerio.
X X X X X X
Chairman's Blog March 2016
Plan:MK is Milton Keynes Council's latest offering in what I call its 'Politics of Obfuscation'.  It is the new Local Plan, covering a period of 15 years from adoption.
It sits alongside the Core Strategy adopted in 2013 which sets out the strategic planning policies to guide development in the borough and the Site Allocations Plan – 130 designated sites, effectively a totalitarian 'city infill' where the council looks to build on every scrap of land in our older estates in order, it says, to ensure "a flexible supply of land to meet our housing target in the Core Strategy, in case the delivery of some of our larger sites is delayed".
Plan:MK is out for consultation until April 6 so unless you want your thoughts to be ignored – and they still might be – get on to it quickly.  They are, confusingly, asking 20 questions buried in different places in the document.  They include: What facilities or opportunities should Milton Keynes try to develop in the future?  Is the outward expansion of the Milton Keynes urban area in this direction the best way to accommodate new development in the longer term?  What do you think about the scale of the development suggested for east of the M1?
There are several things that occur to me.  One is that Milton Keynes was designed as a polycentric city that might, theoretically, be expanded infinitely. However since most of the specially designed grid road 'nub ends' have now been built over, stopped up and/or turned into effectively useless 'city streets', we can no longer effectively do this.
To expand outwards the borough area needs to expand in negotiation with the neighbouring authorities of Central Bedfordshire, Aylesbury Vale, South Northants, Wellingborough and Bedford.  Otherwise we will suffer unwanted 'dumping' of dormer-estates with no supportive infrastructure, as nearly happened with Salden Chase.
Thirdly, if we build on every scrap of green land within our city, surely we are destroying everything that makes us all so love the place and over-stretching our entire infrastructure.
I asked the council these questions with their answers in italics:
How many new homes is the council obliged to deliver and under what statutory instrument or other ungetoutable obligation?   28,000 as set out in Adopted Core Strategy.
By when must these new homes be delivered?  In CS plan period, from 2010 to 2026.
Does the figure include new homes already granted planning permission in the WEA, EAA and elsewhere in the borough?  To a degree but on those sites the completions before 2010 are excluded.
If so, how many additional homes are required to fulfil the obligations?  Currently 28,000 minus the completions from 2010 to 2016.
How many homes for which there is planning permission have not been started within one year by those holding the permissions and also within two years or longer?  Not so easy to calculate.  The 5 year land supply schedule is attached.
The land supply schedule is very informative.  It fully complies with the council's (un)stated policy of 'Politics of Obfuscation' but does set out targets of a rolling five-year requirement for 8,750 new homes across the borough.  It never really reveals why.
I wonder if they have considered that Milton Keynes might already be big enough and that we really do not need to make it any bigger than the planned developments in the Western and Eastern Expansion Areas, B4.4 in the City Centre opposite The Hub and other planned developments?  Incidentally, the WEA is the size of Buckingham, 350 hectares between Stony Stratford, Two Mile Ash and Crownhill, and will eventually comprise 18,000 people in 6,500 new homes, employment and parkland.
Residents who live in outlying villages are rabidly against ribbon development merging them with the city.  Perhaps we should all just concentrate on what is planned; force developers to pull their fingers out and develop areas for which they have planning permission. In the meantime, the council is no doubt eagerly awaiting your response to its well-hidden online public consultation.  Cheerio.
X X X X X X
Chairman's Blog Febuary 2016
Readers may recall that in May last year I wrote about Milton Keynes Council's plans to demolish and redevelop many of our older estates, including Netherfield, Coffee Hall, Tinkers Bridge, North Bradville, Fullers Slade, The Lakes Estate and Beanhill.  This was to cost in excess of £600 million and I discovered that the cost was to be funded by £70-£75 million from 'rent money' – the Housing Revenue Account for RegenerationMK.  The balance would be from a private developer partner (at that time not appointed).  It has been now; it is Mears Group plc.
So where is the additional £525-£530million coming from?  It seemed clear; the only way to find that money was to build on every inch of our once generously proportioned estates.
The council has now admitted that any new homes built will be considerably smaller than current homes and that densities will rise from 20 homes per hectare to 35. Residents will be moved out, possibly into temporary or emergency accommodation and then moved back to newer homes months later having suffered inconvenience, educational disruption, transport problems and work issues.
But apparently there is no guarantee of that or of anything at all for that matter.  After all, we are talking about active local communities here.  And who cares about them?
It seems obvious that in the event the owners do not agree to a forced, fixed-price, no-haggle, only-one-bidder sale of their home, it eventually will be purchased under a Compulsory Purchase Order.  Until then, owners risk years of 'blight', unable to sell or move on with their lives, while this process slowly devours them.
There is another important point and that is to do with Parker Morris room standards. These 1961 minimum-room-size standards became mandatory for all housing built in new towns in 1967, were extended to all council housing in 1969 and were used on many of our older estates.  The standards were effectively ended by the Local Government, Planning and Land Act 1980, as concerns grew over the cost of housing and public spending.
While some houses on these older estates are showing signs of age, the generosity of their living spaces and abundant storage puts a vast majority of the new homes to shame. Can these homes not be renovated rather than demolished?  Many residents think so, some have done the job themselves and appear very happy in their well-proportioned homes.
Surely if the council really cared about local people and not its bottom line, it would reinstate Parker Morris room standards as a bare minimum instead of allowing new dwellings that are potentially 'future slums': Monkston Park, Broughton Gate, Broughton, Oakgrove, Grange Farm for example.  I call these 'Insult Developments', where the planners and builders conspire to build homes that "are good enough for the likes of them". Where refuse trucks cannot access the narrow, traffic-choked street, so vans collect sacks and disgorge them into the garbage truck parked outside.
The council wishes to fund massive infilling of green spaces in our central estates by demolishing all the older housing stock, building lots of tiny new homes, bulldozing trees and building on every sward of grass.  Thousands of residents will be seriously discommoded in the process and if they are lucky enough to get a new home near where they once lived, it will be tiny, densely packed and enjoy no empty green spaces.
But worry not. According to one recent report, the council's head of regeneration Kathryn Eames has confirmed they are not doing it for the money, to hit housing targets nor to turn Milton Keynes into Basingstoke, Crawley or Stevenage.  Oh no.  "We're doing it because people live 11 years less than those in neighbouring estates and something needs to be done".
So these people's lowered life expectancy is nothing to do with higher levels of poverty, social inequality, unemployment or living on questionably nutritious food bank handouts but because they are living in generously proportioned yet run-down housing,  much of it actually council-owned?
You couldn't make it up.  Cheerio.
X X X X X X
Chairman's Blog January 2016
IT IS a new year and there is some good news to usher in 2016.  People power and public outrage have forced Milton Keynes Council to reverse what was possibly the craziest delegated decision it has ever taken.  The decision on December 1, by cabinet member Cllr Matt Clifton, was to create 235 additional parking bays in Central Milton Keynes by reducing the width of 5,402 bays to 2.3 metres from the recommended 2.4 metres.  And all this at a cost of £1,277 per bay or a total of just over £300,000.
The decision was 'called in' by Stantonbury ward Cllr Alex Walker and by Central Milton Keynes Town Council.  Around 1,500 people signed a petition on www.change.org.  Local media campaigned too.  Now the council has capitulated and withdrawn the decision.
Interestingly, current standard sizes for car bays are based on car sizes that are at least 30-40 years out of date.  In the meantime cars have got larger.  The current VW Polo is larger in every dimension than the first VW Golf, its supposedly 'bigger' brother.  Today's Ford Mondeo is now almost two metres wide; its predecessor the Cortina was only 1.6 metres in width.  It has grown by 17 per cent and it is not alone.  Cars in the EU have become 130mm wider on average since 2001.
I also need to mention that people have got larger too.  In recent years, as any trip to a supermarket's frozen chips cabinet will confirm, they have expanded by an enormous extent.  A side effect of the obesity epidemic is that car doors need to be opened wider.  If bays had been reduced to 2.3 metres wide, not only the morbidly obese but also parents with children in child seats, pregnant women and those less flexible and able-bodied would be forced to stay away.  I wonder what that would do to sales at thecentre:mk and intu Milton Keynes?
So was this mad decision for extra revenue?  You bet. Milton Keynes Council raked in £9 million in car parking 'profits' after costs in 2014/15 – only three other cities outside London bringing in more.  The surplus has increased by £3 million in just five years, according to the RAC Foundation.
Car parking surplus for Milton Keynes in the last financial year was ring-fenced to help pay for the running of street parking, subsided bus routes and community transport.  So with that huge parking profit windfall, would they need yet more for those purposes or is it being used elsewhere?
Apparently, moving forward with the bay-narrowing proposals under a delegated decision would also have triggered an increase in the charge for employee permits by way of a reduction in the Central Milton Keynes employee discount.  Opposition councillors had previously voted down the increase, which depended on 1,000 extra spaces being found for employee-permit parking.
The current employee discount is 50pc on the purple bay rate, which was raised this year by 25pc from 40p to 50p per hour.  The cabinet had proposed an increase for employee permits of 5pc of the 50p total every year for five years bringing employees from 50pc to 75pc of the normal fee over an assumed eight-hour working day.
As employees can only park in purple bays and not the premium red, the council created some new designations: 560 premium (red) spaces have been changed to red and black; 328 standard (purple) spaces are now red/black. These are now full price premium bays for casual parkers – up from 50p to £2 per hour – but purple-priced for permit holders.  Taking into account the recent general price hike, even discounted employees would face an increase of 87pc over four years, well above the rate of inflation and a worrying sign of outrageous profiteering.
The final trick the cabinet used to try to find the additional 1,000 employee parking bays was to create the additional 235 bays obtained by repainting width lines.  However despite the council's U-turn on this and having been knocked back this year on their increase to employees, I have learned that they now intend to impose two years' worth of their 5pc annual increases with one 10pc (of 50p) increase in April this year.
Surely this is both underhand and unacceptable.  Since they have lost the battle over ridiculously narrow parking bays, perhaps they should accept their failure to find 1,000 employee parking spaces and act honourably.
At least the car bay width proposal has been withdrawn and parking space sizes will remain as they are, in general 2.4- 2.5 metres wide.  Yet, even at these sizes, they seem barely adequate.  If only they were as wide as those marvellous, generous bays at Costco.  But we are where we are and I suppose we should rejoice.
In the meantime I wonder how we can stop the council coming up with yet more truly mad money-grabbing ideas going forward.  It is a new year, and I take this opportunity to wish you all the best in it.  Happy parking.  Cheerio.
X X X X X X
Chairman's Blog December 2015
There's a saying; "You never miss your water until your well runs dry".  Given my recent experiences with almost daily traffic jams in Milton Keynes – yes, traffic jams… in MK! – I would like to suggest an alternate version: "You never miss your grid roads until the idiots stop building them."
OK, so maybe these are temporary jams caused by infrastructure works for the Western Expansion Area, the redevelopment of the Kingston roundabout and resurfacing works triggered by renewed Milton Keynes Council investment and the enthusiasm of the new contractor.  Maybe.
However, the congestion may well be a portent of the future. The 40 years of free flowing travel were initiated in 1970 when the Milton Keynes Master Plan was published, which included the design of the grid system.  This meant fast roads, roundabouts, segregation of cars from people and cycles on the redways, landscaping and buffers between roads and housing. Perfection.
The city developed and these principles survived the test of time and were enshrined again, within the Milton Keynes Planning Manual, published by Milton Keynes Development Corporation in 1992. It also restated the requirement for grid corridor reservations to be planned into all development areas to fulfil the following functions:
To protect adjoining development from the effects of modern road traffic;
To add to the attractiveness of the environment for residents and road users through the provision of landscaped corridors;
To secure the land for primary transport routes and other main services, now and in the future.
You'd think therefore that these principles were so well-established and so admired worldwide that we'd be safe.  But no.  Sadly, there are always 'idiots' who think they know better.
Our grid roads were not only admired and copied worldwide, our citizens clearly loved them too. In 2008, the Citizens' Advice Group on Transport was established by the council to review the transport needs of the city into the future.  The group commissioned a survey of 1,000 people to obtain a wider view. ICM carried out the survey and reported: "The grid is beloved of this parish. There is likely to be strong opposition if the format is radically changed."
Specifically, the respondents provided the following views:
88 per cent said it gives Milton Keynes a unique identity not seen in other towns;
87pc said the grid road system is fast and efficient;
84pc said the grid road system should not be tampered with.
But I suspect that the 'idiots' were standing with their fingers in their ears, going: "I'm not listening, la, la, la"!
Now I happily accept that the MK Master Plan is not without its critics among the planning fraternity and that the model is not perfect.  However, in 2014, the independent research analyst Centre for Cities had Milton Keynes at the top in virtually every key measure of urban success.  It works, it is highly successful and the people love it.  What could possibly go wrong?
Then those 'idiots', our so-called public servants, in partnership with the larger developers, came up with the Eastern and Western Expansion Areas.  I have written about this previously so I won't repeat the detail.  Of course, the 'idiots' needed some facile justifications for destroying our grid system.  The WEA Development Framework (2005) was one such: "…the long-term transport vision envisages that the infrastructure in the expansion areas should provide public transport routes associated with higher development densities".
And so the hated and failing City Street concept was born.
The 'idiots' hadn't finished their scorched earth policy yet, though.  In the east, the EEA Development Framework (2008) further stated "…the standard Milton Keynes model can be regarded as highly structured suburbia; it is a model which (in its best interpretations) is well loved by residents.  The challenge for the EEA is to deliver a "New Milton Keynes" which updates the Milton Keynes tradition…"
Hello?  So the 'idiots' were attempting to "update the Milton Keynes tradition" by destroying it?
Good sense appeared to return with the Strategic Land Allocation Development Framework SPD (2013) that covers the expansion in the south east of Milton Keynes. The design criteria for grid roads is as follows: "80-metre corridor, with substantial green reserve.  Single carriageway but with space to provide additional carriageway."
However, we can now see as the detailed plans come forward for approval that the grid road corridors specification is being ignored.
So with the 'idiots' having won in the West and the 'idiots' having won in the East, here in the south east of Milton Keynes we, its citizens, are at the last redoubt.  Remember that 84pc of us said the grid road system should not be tampered with.  Surely all those who care must press the council to live up to its promise to retain one of the key features of the city.
If our elected representatives do not deliver what they have promised, we will all be losers.
And then we shall all sit in traffic jams in our cars, buses and taxis for ever… like idiots.  Cheerio.
X X X X X X
Chairman's Blog November 2015 Blog
Bletchley Station… Oh no, how boring.  But wait – Bletchley Station might just be the most important underdeveloped site in Milton Keynes.
It already has many rail lines running through it and advanced plans exist to add two new platforms, bringing its total to eight – more than Milton Keynes Central station – as Bletchley provides the key central focus of the new and fully-funded East West Rail Link.
The revived route, when complete, will reinstate the old Varsity Line between Oxford and Cambridge and link Ipswich, Norwich and Cambridge with Letchworth, Bedford, Milton Keynes, Bicester and Oxford, allowing connections to Swindon, the Thames Valley, South West England and South Wales, with a spur to Aylesbury and now possibly a direct link to Heathrow.  Other links to Southampton and even York could also be available.
And it is already under way. On October 26, rail links opened between the brand new Oxford Parkway station and London Marylebone, running over the first phase of the line between Oxford and Bicester.
Preparation work on the Oxford-Bletchley section has begun and a new station is to be built at Winslow, causing massive rises in house prices.
There are still big issues for Network Rail to resolve, not least the dysfunctional level crossings at Woburn Sands and Bow Brickhill.  When the high speed trains on the East West Rail line are in full six-an-hour flow, along with two-an-hour low speed services, regular freight traffic and services between points such as Bristol and York, serious traffic jams await.
But let's be positive and trust Network Rail to resolve these issues given that they exist within just a few miles of their new head offices.
Bletchley will be so important because it will provide an easy-to-park 'Parkway-style' high-speed hub for local commuters to nearly all points West, East, South, even North, adding both breadth and complexity to the choices already available from Milton Keynes Central.
However, Milton Keynes Council is only putting in a measly £1.2 million to develop facilities at the station instead of the possibly £5-6 million required to totally transform Bletchley's future.
We are told Bletchley helped win the war.  Does it not deserve a world class station? And do commuters not deserve better options than those at the hard-to-park and congested Milton Keynes Central?
The existing plans for 'Bletchley for Bletchley Park', as it's currently snappily monikered, are a pig's breakfast.  They require passengers to traverse stairs and bridges over six lines between the current unprepossessing entrance and the East West lines.  However, a new concourse leading on to Saxon Street with ready access to the bus station, taxis and drop-off points and close to shopping in Queensway is easily possible.
Wheelchair passengers are even more discommoded by the current plans, having to power themselves over perhaps a quarter of a mile to avoid stairs and reach the buses.
A leading local town planner has already drawn up alternative plans which show that Bletchley Parkway (as it might more properly be called) could be a more successful hub than Milton Keynes Central.
Come on Milton Keynes Council, you are already throwing away opportunities to provide a new gateway to our city at the junction of the old Grand Union canal and the planned Bedford Waterway.
Here is another great opportunity.  Please do not waste that too.  Cheerio.
X X X X X X
Chairman's Blog October 2015 Blog
On May 7 89,801 people voted in favour of the Central Milton Keynes Business Neighbourhood Plan referendum, with just 17,133 against.  This plan was unique because electors in every MK postcode were allowed to vote because of the significance of the central area as were, also uniquely, all businesses.  Of these, 356 voted in favour with just 47 against.
Central government instigated through the Localism Act 2011, heavily promoted and financially supported such Neighbourhood Plans.  The one for Central Milton Keynes was given £20,000 – and the cost of the referendum was a public cost too.  If the vote had not saddle-backed the local elections, it would have cost an astonishing £350,000. The one for Central Milton Keynes was one of eight government 'front runners' and is the first to go to referendum and has done so with spectacular success. So government is fully committed to Neighbourhood Plans, it seems.
The Central Milton Keynes Business Neighboourhood Plan was required to comply with overriding government requirements on several matters such as the number of new homes to be delivered and the provision of retail and other facilities. But it had the freedom to state where, what and how these targets should be met.
Indeed, the government claims: "Neighbourhood planning is designed to provide a powerful set of tools to ensure you get the right types of development in the right place for your community.  Local residents and businesses are now in a position to make planning policies that reflect your priorities, deliver tangible local benefits and have real weight in the planning system."
According to local chartered town planner David Lock CBE MRTPI, a former chief planning adviser to the government: "[Central Milton Keynes Business Neighboourhood Plan] is by definition, in law, in conformity with the Core Strategy 2013 and the Saved Local Plan policies that apply.  Under the Localism Act 2011, the CMKBusNP is the first consideration."  So that's all good then. Power to the people.
But it seems that the votes and all that effort and cost were completely in vain.  The redevelopment plans submitted by intu:MK and passed by Milton Keynes Council's Development Control Committee last month are, apparently, in direct conflict with the Business Neighbourhood Plan.  Here are some non-exhaustive reasons why:
Policy G1 protects the 'classic CMK infrastructure'.
Policy G3  states that "a reduction in the quantity, quality, use and public accessibility of all or part of ….Midsummer Place…to make way for new development shall not be acceptable other than for exceptional developments as defined under…G11".
Policy G11 does not provide the applicants with the excuse to fill in most of the roofed area of Midsummer Place with shops, restaurants, a cinema.  intu apparently did not claim that status, as it would be ridiculous, and it is therefore clear that the G11 test is not passed.
Interestingly, intu staff were participants in the Midsummer Boulevard East workshops which I and other Urban Eden members also attended.  Almost all stakeholders achieved consensus on the broad direction for the future of Midsummer Boulevard East including constructive ideas for its development while safeguarding its public space.
Since the planning application has been approved many including the Central Milton Keynes Town Council , Urban Eden, David Lock and many other concerned local citizens and organisations have written to the Secretary of State for Communities and Local Government, Greg Clark, to 'call in' Milton Keynes Council's perverse decision.  It is he who, when Localism Minister, introduced the Amendment to the Localism Bill to enable Business Neighbourhood Plans.
What is the point of creating and voting for a Neighbourhood Plan if it is overturned at its first test?  It would be very bad nationally if local government felt free to breach the trust of those who put in thousands of unpaid hours on Neighbourhood Plans that are properly made and tested, and popularly supported.
I believe this is a matter of national importance because it completely undermines and renders meaningless the government's policy on, and significant funding of, Neighbourhood Plans.
Rather than providing clear direction, the council's decision unless called in will set a very dangerous precedent.  It will put power in the hands of developers and will leave the public and, eventually, councillors powerless to oppose them because the very principal of Neighbourhood Plans will have been rendered valueless.
They will not provide what was clearly intended by government; that local councils throughout England and Wales should have a powerful new and defensible reason to accept, refuse or modify permissions.
Watch this space. Cheerio.
X X X X X X
Chairman's Blog September 2015 Blog
When I think about a topic for my column each month, I always hope I can come up with a positive, up-beat story about Milton Keynes.  This month is no exception.  But I have failed again.  Sorry.
My subject is Milton Keynes Development Partnership, the body tasked with development of land sold by the Homes & Communities Agency to Milton Keynes Council for £32 million in January 2013.
I wrote then; "Milton Keynes citizens are not idiots and it will soon become evident whether this new revived 'Milton Keynes Partnership' is being set up to perpetuate the much-hated and undemocratic body that powered the hugely unwelcome disposition of building land here; flouting the wishes of its electorate by ignoring the majority's desire to see the original design of the city continued."
So what has MKDP achieved in the years since?  Here's one example.  It failed to sell the Bowl to Pete Winkelman for his new MK Dons training academy despite the cash being on the table, forcing him outside the city.  Then it failed to deliver it to The National Badminton Centre – an embarrassing disaster.
In April, a local newspaper interviewed Conservative Andrew Geary, leader of the council when MKDP was formed.  He said: "We set up MKDP at arm's length from the council so it could manage the asset portfolio.  It was designed to bring a revenue stream to the council budget.  Thus far it has failed to deliver that."  Oh dear.  So despite its chief executive being on a cosy six-figure salary, has he been sitting on his hands?
But then a great new opportunity arrived, to develop a large marina and homes connected to the Grand Union Canal and the link off it to the planned new Bedford Waterway.  The large site (around six hectares) was on two adjoining sites; just outside Campbell Park west of the canal, and east of it, in Newlands.
In June last year MKDP invited six architects to produce draft Masterplans.  The Development Brief, written by the council, called for "a high quality urban waterside neighbourhood" delivering "an exceptional, exemplar and bespoke residential development" providing a "key gateway to Milton Keynes city centre".
Blimey, perhaps they have read and taken on board the principles of the original Masterplan for the city?  No, of course not.
The resultant studies by the six architects were added to the Development Brief put out to the market in October with the declared intention to "judge on the basis of the quality of the… design proposals and layout".  Could those in charge of Milton Keynes be trying to recapture the spirit of MKDC, Jock Campbell, Derek Walker et al?  Of course not.
This process eventually led to three developers being asked to submit further information prior to a preferred development partner being chosen to take a scheme forward.  Throughout this process, developers' design teams were encouraged to produce an "exemplar scheme", "a destination for Milton Keynes", "a development that would set the standard for subsequent Campbell Park schemes" and reassured that "the quality is more important than the price".  Did this happen?  Of course not.
Now the winner, Crest Nicholson, has been announced and although its plans for an £88 million will feature a 100-berth marina and more than 300 new homes, they almost totally ignore the best of those six architects' schemes.  Do all dwellings imaginatively overlook the boat moorings in the marina?  No.  Do any?  No.  Not a single one.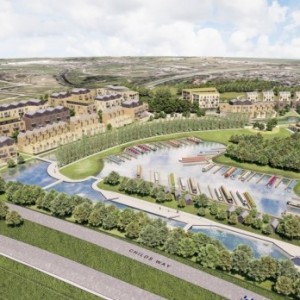 Frankly the scheme is a joke.  Most of the dwellings are hidden behind trees one side of the canal.  All moorings are in a square hole in a field overlooked by nothing on the other.  Only a few dwellings overlook water, making the majority just another boring estate.
This is a total disaster.  None of the laudable aspirations have been realised and the opportunity to make a significant event out of the connection between the old Grand Union Canal and the new Bedford-Milton Keynes Waterway is totally ignored.
How can the MKDP Design Review Assessment Panel justify this abrogation of its responsibility and declared intent?  How can it justify something that wastes one of the last opportunities to create an exciting new gateway to our city?
The current scheme will do nothing for this site; for Central Milton Keynes; for Milton Keynes.  A five-year-old with a sheet of paper, a blue wax crayon, a few Lego bricks and some toy boats could do better.
Sometimes I just feel like crying.  Cheerio.  Theo.
XX  X X X X
Chairman's Blog August 2015 Blog
A recent edition of retail journal Retail Week had this headline: 'Retailers sales hit during worst June in nearly a decade', followed by an article explaining that consumers are choosing to spend on leisure rather than shopping.
In the same week, rival publication Retail Bulletin proclaimed: 'Consumer confidence climbs in June'.  According to data released by market research agency GfK in its latest Consumer Confidence Barometer, consumer confidence rose by six points in the month to 7.0, its highest level in over 15 years.
Confused?  You should be.
These two contradictory stories illustrate how little even the experts understand what is happening in retail and how this might affect, in Milton Keynes, thecentre:mk and its conjoined twin intu Milton Keynes.  Could it be that, despite the bullish noises emanating from intu Milton Keynes with its grandiose plans to build new retail space, cinemas and restaurants and thecentre:mk's approved plans to build a massive parking carbuncle next to John Lewis, they are both already doomed?
In recent years retail has changed frighteningly fast.  Internet shopping has claimed many stores.  Tertiary retail sites are long dead, many even deserted by rates-exempt and rent-free charity shops as footfall descends to uneconomic levels.  Now secondary retail sites are also dying, their demise driven mainly by high vehicle-fuel prices, onerous parking charges and heavy-handed penalties, click-and-collect and online delivery.
I wrote in my previous column: "Milton Keynes' high street, rather uniquely, happens to be a regional shopping centre.  Every regional shopping centre has free parking.  Except ours."  And, as parking fees climb ever upwards, do we really know the impact?
I spoke with James Waugh, departing centre director of thecentre:mk, and asked him if the recent increase in parking charges – the majority of spaces being owned by the council – had negatively affected footfall, a measure of shopper numbers.  His response was that after the first week "people ceased to notice and footfall levels quickly returned to normal".
So is there any evidence that the writing is on the wall for retail in Central Milton Keynes?  An informal survey by Urban Eden found that thecentre:mk has around 200 units with 24 currently vacant: a vacancy rate of some 12 per cent.  intu Milton Keynes has 56 retail units, with seven vacant as I write – a vacancy rate of 12.5pc.  These figures seem high when you consider both centres' bullish expansion plans, the almost empty Food Centre building, the largely empty The Point and even MK Gallery's rumoured abandonment of plans to build three arthouse film screens on its roof.
Has council greed for parking revenue killed them?  Parking in Central Milton Keynes is complicated.  There are 20,000 car parking spaces, 6,000 of which are adjacent to thecentre:mk which owns 1,100 of them.  thecentre:mk, James Waugh explains, has not put up parking fees in its own controlled area either side of the John Lewis end which are still charged at £1.20 per hour with disabled spaces free.
The 550-space Food Centre car park is free for two hours on weekdays and for three hours at weekends.  The John Lewis car park, leased to NCP, charges £1.40 per hour but the disabled pay too.  Milton Keynes Council now charges £2 per hour in the red-lined areas and 50p per hour in the much rarer purple-lined areas.  The Theatre District car park tariff is 60p for up to four hours, £1.20 for four to eight hours and £2.40 for up to 16 hours.  intu Milton Keynes charges £2 for up to two hours with £1 per additional hour.  Staying for over eight hours costs £15 and for 24 hours £25.
Thus each shopping centre is charging less than the council's peak parking bay rates, which are the commonest bays.  Interestingly, though, footfall figures appear more secret than MI6 agents' phone numbers.  thecentre:mk's online Fact File quotes annual footfall of 27 million customers in its 2011 publication but that is actually the figure for 2007 and they have not revealed levels since.
I asked for newer figures.  Instead Kevin Duffy, Mr Waugh's replacement as centre director, told me: "The quality, availability and price of car parking in city centres play a key role in their competitiveness.  We believe a level playing field with out of town locations is key to ensuring Central Milton Keynes continues to thrive". How interesting.
I asked for footfall data at intu Milton Keynes.  They said: "We have not seen any direct impact on footfall here. We suspect this is because the prices in our own car park have not gone up so it is possible that more customers are parking here."  They claim to be holding back the tide of ever more reluctant parkers.  Empty units appear to challenge that.
In a final effort to analyse what all this means, a quote from Persian polymath and poet Omar Khayyám will suffice:
The Moving Finger writes; and, having writ,
Moves on: nor all thy Piety nor Wit
Shall lure it back to cancel half a Line,
Nor all thy Tears wash out a Word of it.
Is shopping in Central Milton Keynes doomed by a greedy council and its ever-spiralling parking charges?  Sadly, empty shops suggest yes.  Cheerio.
X X X X
Chairman's July 2015 Blog
MK FORUM – the equivalent in Milton Keynes of a civic society – invited me to speak at a recent event entitled 10 Buildings, 10 People, 10 Minutes.  The idea was for ten people, mostly architects, planners and the like, to suggest in ten minutes ten buildings in Milton Keynes worth protecting under the council's plans to draw up a 'Local List' of important buildings from the new town era.  This would be an alternative to official listing of those of special architectural or historic interest by the Secretary of State for Culture, Media and Sport, such as thecentre:mk.
Of course, talking about ten buildings suitable for local listing was not what I was going to do.  Instead, my presentation was in two halves.  First I listed five 'buildings' that need protecting, preserving and extending.  Then I proposed an alternative to 'local listing' which I called 'local condemnation'.
First the preserving:
In a polycentric city where not everybody drives to the centre every morning and out every night, our city is technically infinitely expandable.  But only if they stop messing with the carefully designed nub ends of the grid roads that were always planned to be extended.
Already permanently lost are both ends of H7 Chaffron Way, the northern end of V1 Snelshall Street, V7 Saxon Street and V10 Brickhill Street and, although some lacklustre compromises have been made in the Western Expansion Area, we will also effectively lose the western ends of H2 Millers Way, H3 Monks Way and the northern end of V3 Fulmer Street.
The grid roads, their potential to be extended and in some cases dualled; all their roundabouts, which allow fast movement of traffic, and their national speed limits must be listed.
Underpasses. Underpasses were filled in at the junction of Witan Gate and Avebury Boulevard near Sainsbury's to build The Hub (about which more later).  More recently the V10 crossing at Walton Park should have an underpass, following changes of use to housing but somehow they forgot the underpass.
We will see new underpasses on the V4 near the Western Expansion Area and a new one was completed at Oakgrove on the V10, all existing underpasses and pedestrian bridges should be listed and new ones built as a matter of course.
Parker Morris room standards.  These 1961 minimum room size standards became mandatory for all housing built in new towns in 1967, were extended to all council housing in 1969 and were used on many of our older estates.  While some of those houses are showing signs of age, the generosity of their living spaces and abundant storage puts a vast majority of the new homes to shame.
Parker Morris room standards need to be urgently listed and reinstated in Milton Keynes as a bare minimum.
Protect the green environment and prevent infill building.  List all green spaces.  The council plans to appoint a sole supplier to rebuild some of our old estates and spend half a billion pounds on the process.  Clearly they will not do this for love and will be looking to make a huge profit by over-developing and destroying much open space land.
All our green spaces must be protected and, while we're at it, we need to tell the Parks Trust to live up to its name.
Redways must be protected.  They must also be properly maintained and extended to new areas.
Now here is my 'Condemn' list, all of which simply should not exist in our city.
Dwellings that are 'instant slums'.   Monkston Park, Broughton Gate Broughton, Oakgrove, Grange Farm, for example.  'Insult Developments', where the planners and builders conspire to build instant slums that "are good enough for the likes of them".  Where garbage trucks cannot get down the traffic-choked streets, instead little vans pick up sacks and disgorge them into the truck parked outside; where apocryphally people have fist fights over parking; where not even hawkish estate agents like the restrictions on parking.
The Hub.  I doubt there are many who think it is a good thing.  It is like the bastard love child of 1950s Cold War post-modernism crossed with planned obsolescence under the thrall of a nuclear winter. Condemn it now and not make the mistake of building more like it on the B4.4 site across Witan Gate.
City Streets, another failed exercise in stupidity, futility and wrong thinking inspired by ad hoc planning in a visionary vacuu m. They should never have been built and should be expunged from planning options forever.
Removal of free parking.  Milton Keynes's high street happens to be a regional shopping centre.  Every regional shopping centre has free parking.  Except ours.  Its removal cost us £900,000 – nearly £200 a space – all to bring in the princely sum of £2 million.
Of course, the charges to park have just gone up but how long before your average shopper's back-of-an-envelope cost-benefit analysis shows them it is cheaper to drive a little further to have stress-free parking?
What happens to Central Milton Keynes when that happens?  Parking income is ring-fenced for use on, unbelievably, "parking scheme implementation".  How's that for circular thinking?
Bus gates.  Ludicrous, hugely expensive and never used by a bus.  Whoever thought of them must have shares in traffic light companies.  Bulldoze them all.
I enjoyed my ten minutes speaking at MK Forum and it seemed very well-received.  Will the council take note?  Of course not.  Cheerio.
X X X X X
Chairman's June 2015 Blog
IN THE FIRST of its kind anywhere in the UK, both registered voters and locally-based businesses across the whole of Milton Keynes had a vote in the referendum on the Central Milton Keynes – Business Neighbourhood Plan.
Central Milton Keynes was considered important enough to those in a wider area that, unlike in other neighbourhood plans, both residents and local businesses were given a vote by central government and the votes came from not only CMK but from that much wider area, too.
Even foreign-owned companies such as Santander or Red Bull were qualified to vote but only if their nominated representative was prepared firstly to fill out Milton Keynes Council's somewhat nosy (name, job title, date of birth, home address, nationality) 'Invitation to Register' and, secondly, if its directors could find out what it was all about.
Strangely the council, which would have its future planning decisions in the area bordered by Milton Keynes Central railway station, the Grand Union Canal at Campbell Park, H5 Portway and H6 Childs Way largely dictated by this people-led plan, did not bother to inform voters what was in it nor who was behind it.  I wonder why.
In fact, the plan had been developed from early 2012 by what became known as the CMK Alliance, a group of largely unpaid volunteers based in part around members of Central Milton Keynes Town Council (the renamed old parish council), planning experts, stakeholders, lobby groups and social issues activists.
Its chairs were town council chair Dr Rebecca Kurth and, representing the business forum, John Lewis head of branch Paul Hunt.  The group used a Wiki website which allowed anyone to make additions or suggestions, although its main sections were assigned to be created by various groups or individuals.  The results of the referendum were as follows:
residents referendum  YES 89,801   NO 17,033   PAPERS 6,454
business referendum  YES 356   NO 47  REJECTED PAPERS 1
It was a pretty good result considering the almost total lack of publicity.
What this really means for Milton Keynes, however, goes much deeper.  Milton Keynes Council will once again need to take note of the people's views.  Certain compromises had to be made however, such as wider planning policies imposed by central government; the approval of thecentre:mk's new multi-storey car park and the Parks Trust's existing planning consent for a site within Campbell Park.  It could not ignore required housing numbers either, so could not rule out tall buildings but it can hopefully make sure that they look good.
The plan also reserves two large sites for significant "game changing" developments – a university campus or a major employer, for example -  and it will stop Milton Keynes Development Partnership frittering them away piecemeal in the meantime if they require some quick money in response to some well-founded and trenchant criticism.
With 120 acres of land for development between the railway station and the far end of Campbell Park, it was vital to have an overall vision and a joined-up plan. The plan for the next 15 years proposes to:
Expand and improve the retail offer with more variety and flexibility;
Build more commercial premises to attract new jobs;
Reserve key sites for major opportunities, such as a university or major new HQ;
Complete almost 5,000 new homes;
Improve the social, sporting and cultural life.
Other neighbourhood plans are under way or already completed and they too have considerable local clout.  In Central Milton Keynes we now have a YES to protect our grid roads and redways; a YES to protect our green open spaces and a YES to the wishes of local people as opposed to those made, perhaps to an altogether different agenda, by Milton Keynes Council.
The Business Neighbourhood Plan provides a fresh vision for Central Milton Keynes.  It is not perfect but, yourself excepted, who or what is?  Cheerio.
X X X X X
Chairman's May 2015 Blog
RESIDENTS of Milton Keynes may be aware of a recent furore over nascent Site Allocation plans by Milton Keynes Council to build on every scrap of spare land in our city, plans that were rightly seen off at a council meeting on March 25 at which 50 councillors voted against it and none for it.
These plans, floated by a single councillor, were for some 130 designated sites: green reserves, play parks, village greens even Station Square to be built on, effectively a totalitarian 'city infill' and all flying in the face of the Milton Keynes Master Plan and Core Strategy agreed in 2013.
The agenda, it had seemed, was to top up our already massive existing building land stock, which is mostly in the Eastern and Western Expansion areas, and to ensure that the council has enough land for a five-year supply of alternate housing sites providing 1,750 homes per year.
Its instant and unanimous quashing indicated, as I had publicly predicted, that it was simply a 'finger in the wind' exercise and always doomed to fail.
But perhaps I was wrong.  A recent story in one of our local papers had me thinking. Could the council now possibly be coming at the same agenda from a totally different direction?  The story trumpeted a plan to spend £600 million on a facelift for "MK's most deprived estates" including Netherfield, Coffee Hall, Tinkers Bridge, North Bradville, Fullers Slade, The Lakes Estate and Beanhill. On the face of it, this seems like a good thing.  Although in their day some of these estates won design awards and were hugely popular, now they are showing their age and are decidedly less so.
Former councillor Kevin Wilson was the 'stalking horse' for this story as with misty eyes he appeared to once again be reliving his glory years and promising to deliver on his old commitments.  Admittedly these would involve some demolitions and relocations but it would all be "people-led" so there was no need to panic.  The thought of those happy tenants being listened to, oh-so-briefly removed from their homes and then to see their smiley faces as they are presented with exciting new homes… Even I nearly choked up.
But where, I wondered, was this fabled £600 million coming from?  The article went on to explain that £70-75 million would be from "rent money" – the Housing Revenue Account for RegenerationMK.  The balance would be from a "private developer partner".
Now, are we to assume that the unnamed "private developer partner" will just cough up over half a billion pounds in order to see tears of joy rolling down Kevin Wilson's face?  Er no.  The "private developer partner" is after building land.  Lots of our precious green space land, to be precise.
I wanted to know more.  So I rang the council and spoke to its media department.  At first they denied all knowledge of this and suggested I talk with Alderman Wilson.  Then they called back and said that yes, actually, it is a council initiative and suggested I submit some questions.  And so I asked:
Is this adopted policy?
How much land will be sold off to generate "up to half a billion pounds more"?
What will happen to owners of houses on the target sites: will their properties be subject to Compulsory Purchase Orders?
Have the 16,000-plus "affected residents" been informed?
Please provide a full list of affected sites.
The council responded: "Following Cabinet decision in June 2012 where principles of regeneration were approved, we have been talking to our residents and other key partners."
Fair enough.  At this point, I still have moist eyes.  Well, moist-ish.
The reply continues: "It is too early to talk about the details of the regeneration programme highlighted in your questions as we are still in the process of creating a partnership with a private sector partner.  Following the set-up of the partnership, and full review of the needs of the council's housing assets, the partnership will be in a position to develop a business plan setting out where it will start the process to deliver housing led regeneration.  The 'what' – what land, what plan – will be developed in partnership with communities."
I have wiped my eyes dry now and I am faintly suspicious.  So let me get this straight: they plan to appoint an exclusive, privileged, private partner, then decide the council's needs and what land that partner will be allowed to plunder and how.  What a ludicrously cosy deal.
The council statement goes on: "Since June 2012 we have been clear that any regeneration activity will be commercially framed but community led and will be much broader than just housing.  It is also about making improvements to local environments, providing employment support and building strong, active and sustainable communities."
The statement outlines the key aims of the RegenerationMK Partnership:
To deliver an effective repairs and maintenance service across 11,300 council properties;
To undertake a long-term strategic approach to generate resources to drive social and economic regeneration. The process for appointing a partner was agreed by Cabinet in July 2013;
To work with a partner to develop a regeneration programme for Milton Keynes, initially focusing on seven priority areas.
The statement ends: "A formal decision to appoint a partner will be considered by Cabinet on July 13.  Full details will be published after this meeting and at the conclusion of legal processes."
I suspect Milton Keynes' coterie of 'usual suspect' property developers must be licking their slavering chops at this enticing prospect.  Cheerio.
X X X X X
Chairman's April 2015 Blog
WE NOW KNOW that the council has no 'Vision' for Milton Keynes' future development, as I highlighted in my column last time.  There are numerous examples of ad hoc short-sighted developments being approved.
However, in south east Milton Keynes, people power has recently managed to prevent this 'anything will do in MK' attitude becoming manifest… for now.  Members of Urban Eden, residents, Walton Community Council and ward councillor Alice Bramall mounted a campaign to raise awareness of serious issues with the 350-home Church Farm planning application.
Concerns were raised with Milton Keynes Council planners from 2011, namely: no strategic plan, no infrastructure, failed consultation and an inadequate road solution.
Sadly the first three failings were not considered when it went before the Development Control Committee in February.  The detailed plan for the 'strategic' road access was, however.
In the 1990s the road layout between Wavendon Gate and Old Farm Park was designed very carefully.  It ensured the easy extension of the H10 Bletcham Way between the two communities, with the right amount of noise and pollution mitigation.  The land is even built up so that the key crossings could be grade separated.
That is what 'Vision' does.
However to save land, cost and because 'anything will do in MK' these days, the developer, in consultation with the planning and highways team, dreamed up a route that runs tightly against the bottom edge of the original grid road corridor crossing two extremely busy footpaths 'at grade' where hundreds of children would meet hundreds of cars every day.
Planners had their fingers in their ears, too, when it came to future proofing this edge of Milton Keynes.  The land adjacent to Church Farm will come forward for housing and is already owned by a property company.  And there has to be a solution to the level crossing at Woburn Sands by 2021, the extension of the grid road through Church Farm being the most likely answer.
At first, nobody listened to the locals but in February the DCC compromised and deferred the scheme to give time to improve it.  Sadly, the developers submitted an unchanged 'anything will do in MK' application in March.
Almost miraculously, and arguably because of the opponents (for 'opponents', read 'electors') arraigned against it at the ensuing DCC meeting and because they could not defer again, members rejected it.It is not a final victory and I sincerely hope that the developer will develop a conscience and not appeal or try to force through a tweaked scheme with some no-cost changes.
So how might things have been different?  Church Farm should have been part of a long-term, cross-party 'Vision' for Milton Keynes.  Such a 'Vision', accompanied by a strategic plan would take us from a population of 250,000 (the original plan's design limit) to 350,000 by 2050.
It would lay down, in legally robust terms, 'how we do things round here'.  It would confront sacred (concrete) cows such as the use of greenfield land and the treatment and protection of adjoining villages.  It would spell out how infrastructure and facilities would be ahead of expansion (i before e).  There would be innovative solutions to how infrastructure was funded.  Each developer would know how their land bank fitted into the 'Vision' and so would have a clear path to gaining a return on investment.  Sites would not come forward in isolation and businesses would have confidence that their investments in our city were being protected and continueto expand here.
Planners and developers should listen to the citizens.  Despite what they might assume, we are – possibly uniquely in the UK – generally pro-growth.  The locals know the areas, unlike the planners for whom these developments are often desk exercises. When locals tell you something is wrong, they might be right.
Perhaps all parties, residents, businesses and yes, our elected councillors too, can aspire to be like Alexandre Dumas' the Three Musketeers; capable of grasping the concept 'All for one and one for all'.
On this occasion, so far they have. Cheerio.
X X X X X
Chairman's March 2015 Blog
You may recall I wrote last month about attempts to ask the Secretary of State, Eric Pickles to "call in" and send to Judicial Review the decision to approve a multi-storey car park next to thecentre:mk.  Despite every councillor who voted for it being opposed to it, Pickles has failed us and his reasons for doing so are effectively meaningless (e-mail me if you want a copy). In the meantime another bogey development, the one previously called Salden Chase and latterly South West Milton Keynes, has reared its ugly head again.
This development, west of Far Bletchley, north of the East West Rail Link, east of Whaddon Road, Newton Longville and south of the A421, by the South West Milton Keynes Consortium of developers Hallam Land Management, Taylor Wimpey, Connolly Homes, William Davis Homes and Bellcross Homes comprises:
Up to 1,885 mixed tenure dwellings;
An employment area;
A neighbourhood centre including retail, community  and residential uses;
A primary and a secondary school;
A grid road reserve;
Multi-functional green space;
A sustainable drainage system;
Associated access, drainage and public transport infrastructure.
A planning application was lodged with both Milton Keynes and Aylesbury Vale District Councils at the end of January.
Now while Milton Keynes councillors of every political hue have previously told me that they resolutely oppose such a development, they also universally opposed the car park mentioned above, which they voted for.  So excuse me if I have completely lost faith in their will to preserve and extend the best of Milton Keynes and not allow any ill-designed clumpage of homes and businesses relying on our roads, police, doctors, fire services, hospital etc to be dumped on our borders.
However there is something unexpected revealed in these plans that is far more worrying and these are extracts from a document obtained from Milton Keynes Council called Milton Keynes Transport Model Traffic Forecast Report from May 2012 which I have never heard of or seen before.
This astonishing document, in its Table 4.2 Local Network Infrastructure Schemes section, describes how the following ten Milton Keynes roundabouts will be signalised:
A5/A4146/Watling St;
Kingston;
Brinklow;
Monkston;
South Grafton;
H3/V9 Great Linford;
H3/V10 Blakelands;
H3/V8 Redbridge;
A422/Willen Rd Marsh End
A422/A509 Tickford.
And 13 roundabouts will be converted to Traffic Signal Junctions (meaning that the roundabouts will disappear completely):
Kiln Farm;
Crownhill;
Loughton;
Knowlhill;
Oakhill;
Oxley Park;
New Bradwell;
Coffee Hall with left slips;
Silbury (completed 2007);
Marina & Netherfield (double);
V4 Watling Street-V7 Saxon Street;
Fairways.
Roundabouts at The Bowl and Grange farm are to be adjusted (whatever that means).
There is even a section marked: Priority converted to Traffic Signal junctions which lists two more, at Watling Street/Tilers Road and Watling Street/High Street.
Have the people of Milton Keynes been asked about this, or even informed?  Not so far as I am aware.  And why did we have to find it in a plan published by neighbouring Aylesbury Vale?
A member of Urban Eden made enquiries at Milton Keynes Council about this and received the following reply: "Anna Rose [the new service director for planning and transport] has asked me to respond.  The transport document referred to is a highly technical report that provided a transport evidence base.  It is not a policy document although it did inform the development of the Core Strategy and also the Local Transport Plan."
From that, I deduce that Milton Keynes Council is working behind the scenes to further destroy the things that its citizens, as revealed in polls, so completely love.
Once our roundabouts all become signalised junctions, we shall no longer enjoy the simplicity, efficiency and convenience of free-flowing buses, taxis, trucks and cars and Milton Keynes will turn into a pastiche of unloved Basingstoke, Crawley or Newton Aycliffe.  When will our elected councillors learn?
And, despite my constant suggestion that someone, indeed anyone, in power needs to develop a 'vision' for Milton Keynes, such as was held by the original Development Corporation, tragically at a recent meeting council leader Peter Marland declared publicly that he has "no vision for Milton Keynes".
Even the previous chief executive of  he council David Hill told me personally that he had no vision either as he relied on the Cabinet to provide one.  So, of course, my thoughts turned to new chief executive Carole Mills.  Perhaps she has a vision.  So I asked her.
She has now effectively confirmed that she has no vision for Milton Keynes either, reporting that she supports councillors in the work they undertake on visioning for Milton Keynes "as it is they who have the democratic mandate."
So I guess it is official: there is no vision for Milton Keynes and we are all doomed. Cheerio.
X X X X X
Chairman's Febuary 2015 Blog
I was one of the few allowed to speak before Milton Keynes Council's  Development Control Committee in January on the application for a multi-storey car park next to thecentre:mk.  I have written about this excrescence before.  One is only allowed to address the DCC for a risible three minutes and interrupted at 30 seconds remaining, so you will stop on the dot.
That is not enough but I suppose I should be grateful.  Others were refused a right to speak at all, even Milton Keynes Development Partnership, the council's wholly-owned landholder whose land is required for this scheme.  They too oppose the car park plan.
I told the committee that thecentre:mk has picked the worst possible place in Central Milton Keynes to build a car park. It would be a permanent blight on the eastern Midsummer Boulevard with dangerous traffic problems at peak.  The council's own transport officer voices fears of "a detrimental impact" on the highway network and states: "It has the potential to cause danger.  For the reasons of inconvenience to users of the highway and the possible conditions of danger to those users that may result, I recommend that the planning application be refused."
Even the case officer who overruled him states: "…it will adversely affect the highways network."  Not one, but two new sets of traffic signals are required in a botch attempt to reduce congestion along Marlborough Gate.  Around 40 per cent of bus routes in Milton Keynes will be affected as they pass through Marlborough Gate, the only single carriageway gate not connected to a grid road in Central Milton Keynes and the absolutely worst possible place to build a multi-storey car park.
Interestingly the council's transport officer did not attend the DCC.  I wonder who excused him knowing that his report was due to be debated and was key.  His technical review shows that he did not see the revised transport assessment  from thecentre:mk's transport consultants Waterman as acceptable as there was evidence of inadequate and inappropriate results sufficient for him to question the answers he was given.  An early statement based on the pre-revised traffic assessment indicated that at peak there was traffic running at 107.4pc (i.e. well over capacity) on the Marlborough Gate-Midsummer Boulevard junction.  In other words, gridlock.
In 2012, Waterman stated in the Primark application that there was "no need for a MSCP as no new car parking was required and that there is sufficient car parking within 400 metres".  They now state the exact opposite.  It gets worse.  The base figures used for the simulation trials were apparently for June 2013 or late January 2014, not the pre-Christmas retail peak.  The expected Christmas uplift of about 40pc should have been advised to the DCC as relevant yet instead it was advised that 85-86pc capacity at quieter times was peak.  Perhaps the case officer present, whose job was to advise the DCC, was confused?
The 'Passenger Transport' response in the case officer's report did mention a relevant peak: "The existing MSCP located on Saxon Gate already has a detrimental effect on the operation of bus services during the busy pre-Christmas period, where buses are diverted to avoid cars queuing to enter the car park.  This proposal has the potential to replicate the scenario at the other end of the shopping centre but the opportunities for diversion routes are more limited."
Surely committee members ought to have been made aware of that issue by the case officer.  The Waterman representative mentioned an extra minute of delay per bus but the transport officer had not accepted that as a true reflection of what would really happen, though the officers present apparently agreed that was the case.
The case officer and the officer who stood in for the transport officer may have inadvertently misled the DCC.  Comment by the case officer that the internal layout of the proposed car park was not relevant may also be wrong as internal queuing directly creates external queues on the highways.  There was also some confusion over which planning policy actually took precedence.
A new Planning Peer Review – Improvement Plan authored by Anna Rose, the new service director planning and transport, says: "…the absence of trust or respect between councillors and officers across the council meant that the benefits of other good partnership initiatives were often lost."  And yet despite this DCC chair Cllr Andrew Geary criticised those objectors he claimed were critical of the officers.
Despite every committee member stating they were opposed to major aspects of the proposal including its traffic impacts on the regional centre, impacts on regional bus routes passing through the regional centre and its very poor architectural and urban design, they said they had been advised that a refusal would be rejected on appeal.  This advice was not in the transport officer's report, neither was such advice given by the officers in the meeting and therefore, against their individual preference, half of the committee felt they had to approve the scheme by four votes to three, with one abstention.
Cllr Geary said he hoped it would not be built and that Hermes, co-owners of thecentre:mk, would sit down with planners, MKDP etc to thrash out a better plan.  Sadly his policy of lying down and hoping developers would not then walk over him has already proved a failure elsewhere in the expansion areas.
I have to be careful about the following which is extremely time- and event-sensitive at time of writing.  Certain 'influential parties' have now formally requested that Eric Pickles, the Secretary of State for Communities and Local Government, calls in the decision and that it goes to Judicial Review.  The grounds for such an appeal have to be national or perhaps, at a pinch, regional.
They include:
The planning officer's written report to the committee was misleading because it said National Planning Policy Framework policy overrides the council's statutory development plan and the emerging Central Milton Keynes Business Neighbourhood Plan, examined and cleared for referenda scheduled for May 7.   The weight to be attributed to the statutory development plan and the emerging business neighbourhood plan was wrongly treated as de minimis and the committee was wrongly advised both in writing and in the meeting (which was filmed);
The correct reading of local planning policy that should have led to the application's refusal was provided to the planning officers in advance, and ignored, and to members before the meeting but they appeared to be unaware of it;
Direct conflict with, and insufficient weight given to, the up-to-date statutory development plan;
Direct conflict with, and insufficient weight given to, the emerging Central Milton Keynes Business Neighbourhood Plan, which is a Department for Communities and Local Government 'Frontrunner'.  Here is a direct challenge to the status of an emerging pioneer plan in which there is national interest, which has passed five of the seven stages towards becoming part of the statutory development plan.
Let us hope that Mr Pickles responds positively. Cheerio.
X X X X X
Chairman's January 2015 Blog
I'D LIKE to wish you a happy new year.  Now that's over with, I'd like to depress you. Sorry!  But you need to know.  While our local councillors argue, point fingers and blame each other for the endless cuts in public spending, and the difficulties local people have with parking, our city has become a confusing and poorly-signed shambles.
Car park signage in Central Milton Keynes is misleading, out of date, contradictory and even plain wrong.  What follows should embarrass the owners of car parks and Milton Keynes Council, which is responsible for signage.
In Saxon Gate East, the parking advice sign for visitors is not operating as I write.  The similar large illuminated sign on the Secklow Gate route from the eastern approach off H6 Childs Way is mostly missing.  The uprights that used to support it are there but there is no sign.
The illuminated sign for visitors on the Avebury Boulevard next to Home Retail Group HQ is also not working.  There are no signs on the highways to the multi-storey car parks at  The Point; the Food Centre; INTU MK and Sainsbury's – which is jointly a council car park (I bet you didn't know that).
Our city is now a jungle of different coloured road lines fronting parking bays, different coloured parking machines and confusing Electric Vehicles but not Electric Vehicles Only signage.  We have four different blue-painted parking meters, all with different tariffs: at Xscape; near the station; near the old bus station and adjacent to the ice rink in the former Leisure Plaza.  We also have two types of red-painted parking meters with different tariffs.
We have three differing black-painted meters, owned by the council, Network Rail/London Midland  and by thecentre:mk.  They have different tariffs. We have orange meters operated by Milton Keynes Development Partnership… at different daily tariffs.
Let's look at the visitor experience and start with a motorist looking for car parking as they arrive at Grafton Gate. He travels east and the first car park he might use is to the right – a MKDP car park.  It is not signposted so our visitor sails by.  Fail #1.
The next public car park is off Witan Gate, below Sainsbury's. It is not identified as public in any external sign on the building.  Fail #2.
Once over the traffic lights at the junction with Witan Gate, our visitor sees, on the left, a small public car park and standard rate surface car parking to the right.  Beyond the private car park on the left he notices areas of surface level parking on both sides of Avebury Boulevard, with both premium and normal rates applying.  Or he might not.  The large sign on the left near Home Retail Group is of no use to visitors as it has not been working for a long time.  Fail #3.
Over the Saxon Gate junction with Avebury Boulevard and he might, if very observant, spot a small sign identifying P-1250 spaces to the left.  Further along Avebury Boulevard, through the trees on the left, he may catch sight of The Point multi-storey car park.  Sadly, however, it is unsigned on Avebury Boulevard.  Fail #4.
Although there is no multi-storey car park sign, there is a sign nearby which says Area D3 – Premium rate applies – £1.40 per hour.  The car park actually has a rate less than half, at 60p per hour.  Fail #5.
Our hapless visitor drives between surface car parking to the left and right at standard tariff rates.  There are no signs pointing to the MKDP surface car park next to The Point, effectively only accessible from Secklow Gate travelling north.  Nor are signs to this car park Midsummer Boulevard nor on Secklow Gate itself.  Fails #6, #7 and #8.
Our visitor crosses the junction of Avebury Boulevard and Secklow Gate towards surface car parking outside the vacant former Sainsbury's unit and on the right outside Xscape.  However if he enters the area around Xscape he is very likely to be confused and ticketed, as are so many.  The large council Area Sign says that standard rates apply but the twice-the-standard-rate Xscape car park rates apply just beyond the sign.  Fail #9.
When our despairing visitor reaches Lower Twelfth Street, the Area Sign informs that premium rates apply.  There is also a small sign on the left on Lower Twelfth Street saying the  car park is for Patrons of the Food Centre only.  This is confirmed on the signage inside the Food Centre and in thecentre:mk.  But it's not true. thecentre:mk website says that the car park, which it owns, is available for use by all.  Fail #10.
Externally they fail to adequately sign this multi-storey too, perhaps because it is free.  Fail #11.
Still travelling east along Avebury Boulevard, our visitor reaches an access way to the left with yet more misleading signage into a surface car park to the south east of the Theatre District.  The large council Area Sign says premium rates apply yet just behind the sign the Theatre District surface car park is charged at less than one fifth or 25p per hour.  Fail #12.
Finally at the very end of Avebury Boulevard, there is a sign identifying the 330-space Theatre District multi-storey car park via Marlborough Gate – the only one of five directly signposted as a MSCP off Avebury Boulevard.  Success #1.
Our despondent visitor goes home, likely telling his family and friends that parking in Milton Keynes – a city dubbed by many as 'city of the car' – is a joke. Great job, Milton Keynes Council and car park owners.
Cheerio.
X X X X X
Chairman's December 2014 Blog
American cousins like to call 'the holiday season' with a smile on your face.  Thus this month's column seeks to shed light on the frankly risible activities of those determined to add a new multi-storey car park to thecentre:mk.
I wrote about this in October, describing the owners' thinly veiled attempt to extend their listed shopping building under cover of offering the people of Milton Keynes a car park. Recently, however, they appear to have totally lost the plot.  Indeed, their efforts have put one local challenger of planning and transport matters, David Stabler, in mind of Gabriel Chevallier's famous French novel Clochemerle, which was adapted as a TV series by Ray Galton and Alan Simpson in the 1970s.
It is an analogy that appeals to me also.  Clochemerle deals with the confrontation of secular and religious forces in a small French village in Beaujolais.  The eruptions begin when the socialist mayor decides that he wants to leave behind a monument to his administration's achievements.  He takes as his model the ancient Romans, who were famous for two things: hygiene and noble edifices.  He decides to unite the two concepts by constructing a public urinal in the centre of town.  There is one problem, however.  The chosen location is next to the village church, and this outrages the traditionally minded villagers.
Substitute the secular mayor and his urinal with Hermes and partner Australian Super as misguided developers wanting to erect a monumental multi-storey car park to consolidate their commercial triumphs.  Their efforts are being opposed by a growing band of those defending the concept of the design of Central Milton Keynes, the grade II listed shopping building and the free movement of traffic on Marlborough Gate.
Perhaps we see in this stand-off similarities to the farcical goings on in Clochemerle and the disputes about it.  For those who think I am being a little unfair, you may not be aware that Hermes has now submitted five separate application forms and just cannot seem to handle the basics of what is a fairly simple planning application for a big box with empty floors and a few ramps.  Because of protests from third parties, they have now finally been forced to notify the adjoining landowners, something they neglected to do, even though they want to use their land for access and external works.
Both the Parks Trust, which looks after the city's green spaces, and Milton Keynes Development Partnership, responsible for promoting the development of the borough's land assets, took active part in recent seminars about the future of Midsummer Boulevard, which I, Hermes and Australian Super also attended, but neither the Parks Trust nor MKDP were consulted about the car park plans.  No wonder that both landholders are at best critical and now seem totally opposed to the plans.
MKDP chief executive Charles Macdonald has bluntly offered his opinion about what should happen: "The proposed standalone car park on this site should be withdrawn by the applicants, or refused."
Not only did Hermes/AS not consult with key stakeholders but its architects do not seem to know exactly what it is they have designed.  Each of the five application forms proposes a different number of parking spaces to be built, ranging from 1,344 to 1,418; a difference of 74 spaces or over five per cent.  How can they 'lose' 74 parking spaces?
They have also had to increase the number of disabled spaces from 57 to 85, because their first 'go' offered less than the 6pc required.   I wonder how much they are being paid for their lackadaisicality, if that is a word.
And then there are the pigeons.  Rather, the potential pigeons and potential pigeon roosts.  Thousands of them.  The four elevations of the car park are designed to be clad with nearly 4,500 coloured anodised box panels.  The key word here is box.  Now while this may sound excitingly different to some, to others it is an affront to the minimalist listed building which it will adjoin.
The outrage does not end there.  At a public meeting the designer was asked whether the facade would attract roosting pigeons, for whom the boxes would appear to offer perfect hospitality, and what they might do to obviate this.  Each panel could, theoretically, provide a roost for a nuclear pigeon family.  4,500 purpose-made pigeon roosts and the resultant pigeon poop from up to 18,000 pigeons inside a structure full of vulnerable cars, is perhaps a disaster even Hermes/AS might wish to avoid.
The architects have gone away and thought about this.  Is their solution alternative cladding?  No, it's Optical Bird Gel, developed by a scientist in Korea.  The gel gives the impression to bird  brains that it is on fire.  It would be added to little dishes, as many as 4,500 of them, placed where birds would otherwise nest, roost or hang around cooing (perhaps it's not roosting dishes they need, but roasting dishes… I digress).  According to the manufacturers, if the birds are nesting you need dishes every 4 – 6 inches, for roosting birds 10 – 12 inches between each dish and finally, if the birds are loafing (their words) 18-20 inches between each dish.
So how does this gel age and for how long is it effective, I wonder?  So it looks like the car park elevations will be covered in thousands of Optical Bird Gel dishes.  Does this sound like Clochemerle?  Mais oui… and please avoid the pigeon merde.
Have a happy holiday.  Cheerio.
X X X X X
Chairman's November 2015 Blog
There's a saying: "You never miss your water until your well runs dry".  Given my recent experiences with almost daily traffic jams in Milton Keynes – yes, traffic jams… in MK! – I would like to suggest an alternate version: "You never miss your grid roads until the idiots stop building them."
OK, so maybe these are temporary jams caused by infrastructure works for the Western Expansion Area, the redevelopment of the Kingston roundabout and resurfacing works triggered by renewed Milton Keynes Council investment and the enthusiasm of the new contractor.  Maybe.
However, the congestion may well be a portent of the future.  The 40 years of free flowing travel were initiated in 1970 when the Milton Keynes Master Plan was published, which included the design of the grid system.  This meant fast roads, roundabouts, segregation of cars from people and cycles on the redways, landscaping and buffers between roads and housing.  Perfection.
The city developed and these principles survived the test of time and were enshrined again, within the Milton Keynes Planning Manual, published by Milton Keynes Development Corporation in 1992.  It also restated the requirement for grid corridor reservations to be planned into all development areas to fulfill the following functions:
*  To protect adjoining development from the effects of modern road traffic;
*  To add to the attractiveness of the environment for residents and road users through the provision of landscaped corridors;
*  To secure the land for primary transport routes and other main services, now and in the future.
You'd think therefore that these principles were so well-established and so admired worldwide that we'd be safe.  But no.  Sadly, there are always 'idiots' who think they know better.
Our grid roads were not only admired and copied worldwide, our citizens clearly loved them too.  In 2008, the Citizens' Advice Group on Transport was established by the council to review the transport needs of the city into the future.  The group commissioned a survey of 1,000 people to obtain a wider view. ICM carried out the survey and reported: "The grid is beloved of this parish. There is likely to be strong opposition if the format is radically changed."
Specifically, the respondents provided the following views:
*  88 per cent said it gives Milton Keynes a unique identity not seen in other towns;
*  87pc said the grid road system is fast and efficient;
*  84pc said the grid road system should not be tampered with.
But I suspect that the 'idiots' were standing with their fingers in their ears, going: "I'm not listening, la, la, la"!
Now I happily accept that the MK Master Plan is not without its critics among the planning fraternity and that the model is not perfect.  However, in 2014, the independent research analyst Centre for Cities had Milton Keynes at the top in virtually every key measure of urban success.  It works, it is highly successful and the people love it.  What could possibly go wrong?
Then those 'idiots', our so-called public servants, in partnership with the larger developers, came up with the Eastern and Western Expansion Areas.  I have written about this previously so I won't repeat the detail.  Of course, the 'idiots' needed some facile justifications for destroying our grid system.  The WEA Development Framework (2005) was one such: "…the long-term transport vision envisages that the infrastructure in the expansion areas should provide public transport routes associated with higher development densities".
And so the hated and failing City Street concept was born.
The 'idiots' hadn't finished their scorched earth policy yet, though.  In the east, the EEA Development Framework (2008) further stated "…the standard Milton Keynes model can be regarded as highly structured suburbia; it is a model which (in its best interpretations) is well loved by residents.  The challenge for the EEA is to deliver a "New Milton Keynes" which updates the Milton Keynes tradition…"
Hello? So the 'idiots' were attempting to "update the Milton Keynes tradition" by destroying it?
Good sense appeared to return with the Strategic Land Allocation Development Framework SPD (2013) that covers the expansion in the south east of Milton Keynes.  The design criteria for grid roads is as follows: "80-metre corridor, with substantial green reserve.  Single carriageway but with space to provide additional carriageway."
However, we can now see as the detailed plans come forward for approval that the grid road corridors specification is being ignored.
So with the 'idiots' having won in the West and the 'idiots' having won in the East, here in the south east of Milton Keynes we, its citizens, are at the last redoubt.  Remember that 84pc of us said the grid road system should not be tampered with.  Surely all those who care must press the council to live up to its promise to retain one of the key features of the city.
If our elected representatives do not deliver what they have promised, we will all be losers.
And then we shall all sit in traffic jams in our cars, buses and taxis for ever… like idiots.
Cheerio.
X X X X X
Chairman's October 2014 Blog:
IN MARCH I had a private meeting with co-owners of thecentre:mk, Hermes, town planners Turley and architects Leslie Jones.  They told me that I was the first to see plans for a new multi-storey car park next to John Lewis.  I think I was meant to be flattered and thus melt into acquiescence.  And at first I was and I did.  However, a question I asked at that meeting, which was not properly answered, came back to haunt me.
Why would they waste £30 million on a new car park, when according to their own experts, when they applied to demolish Secklow Gate bridge two years earlier, there is easily enough parking around thecentre:mk?  Surface parking is over capacity and under-utilised, says Transport Assessment Secklow Gate, Planning Application 12/0174/2FULEIS thecentre:mk August 2012, by Waterman Transport & Development Ltd.  The loss of 46 spaces was insignificant, they argued, because customers could use some of the 1,166 spaces within 400 metres or a five-minute walk, that are unoccupied at peak times.
The two multi-storey car parks – in the Food Centre and next to Milton Keynes Theatre – are not only free of charge but extremely under-utilised.  So is there an ulterior, undeclared motive?  Surprise, surprise, it appears there is.
It seems the multi-storey car park is a 'stalking horse' for rather more radical and arguably less popular changes.  Could two of these changes be demolition of the Food Centre multi-storey car park and additional development around the listed shopping building?  If so, it seems they have not thought it through properly.  For instance, the Food Centre car park has 550 spaces compared to 1,412 spaces in the proposed new one.  And although the new one is 256 per cent larger, it has less than 25pc of the lift capacity – the Food Centre car park has seven 33-person lifts while only three 17-person lifts are proposed in the new one.  A people log-jam beckons.
But don't worry – there will be no cars in the new car park anyway.  Because motorists will be unable to get in via a newly three-way traffic-lit junction on the busy single-carriageway, no grid road access, bus-clogged Marlborough Gate. [It will be a three way traffic light; i.e. go straight on Marlborough Gate or only go left into car park, go right from Marlborough Gate into car park or straight on going East whilst cars going West have to stop, go either way on Marlborough Gate from car park whilst all traffic is stopped on Marlborough Gate, creating long delays.  Ed.]
And what of the other potential changes?  The Design and Access Statement reveals much: "PHASE TWO: Restaurant/Leisure & Residential.
"This component could further wrap the car park and activate the southern frontage.  As an alternative to Phase One this proposal illustrates an extension to the Midsummer Boulevard "infill flank" to deliver deeper units, meeting current tenant requirements  …to deliver a viable critical mass of new space from the outset."
Readers may recall that I dealt with elements of this stealth proposal to narrow Midsummer Boulevard East at the Design Workshop, which I attended earlier this year.  Suffice to say, I felt like a potential King's sailor discovering a shilling at the bottom of his pint – i.e. railroaded, to mix my transport-related metaphors.
Note also that in the DAS the Food Centre is shown as part of both phases of the 'Future Development Potential'.  Bizarrely, its multi-storey is not mentioned as suitable to accept displaced cars during construction of the proposed new multi-storey car park.  The theatre multi-storey and the Hermes-owned Secklow Gate car park are both cited and both within 500 metres, yet the car park at the Food Centre (also within 500 metres) is not mentioned.
What, I wonder, could have caused this omission?
The transport assessment by Waterman shows some rather fanciful conclusions. For instance, "the Development would result in a generally negligible effect on traffic flows and junction operation, though Marlborough Gate would experience minor adverse effects".
So the traffic queuing to get into the car park's essentially sole entrance, fatally blocking a single carriageway used by most of the buses in Central Milton Keynes, would cause 'minor' effects?  Oh, please….
In any event, it does not comply with the Parking Strategy for Central Milton Keynes adopted in November last year, which speaks against "meeting unfettered, unsustainable demand".   Indeed, it became somewhat transparent during my meeting at the thecentre:mk that the true intent includes establishing signage across Central Milton Keynes directing all shoppers to the new multi-storey, thus dragging them away from retail rival Intu Milton Keynes.
Now while this may be the perfectly normal, self-serving, dystopian behaviour by your average corporation, we must ask whether forcing motorists through the city centre to literally the hardest place to get to – it is not connected to the nearest grid road at V8 Marlborough Street – really serves Milton Keynes.  I say not.
A further aim of the Parking Strategy is "to maintain the economic vitality of Central Milton Keynes as a place to shop, work and visit, while recognising parking management as a tool… to promote a shift to more sustainable modes."
For a decade Milton Keynes Council has made an annual policy decision that additional off-street parking is unnecessary or undesirable in Central Milton Keynes.  Once again the proposed multi-storey car park fails.  I doubt that the £30 million investment could even be recouped given that the new multi-storey would have to charge VAT and compete with ground level parking around the building, which does not.
I again ask the question:  Why would they waste £30 million when according to their own experts, when applying to demolish Secklow Gate bridge two years before, there is easily enough parking around thecentre:mk?
Cheerio.
X X X X X
After a well-earned break in August, the Chairman now treats us to his blog for September 2014, though it is no treat for the Western Expansion Area:
HERE we are, the end of summer and I'm writing about the Western Expansion Area.  Again.  Why is it always such a monumental 'SNAFU'?  Planning for the WEA was granted in 2007 by unelected, unapologetic, unconscionable bureaucrats working for central government but pretending to be local.  And what an enduring curse they cast.
The WEA is the size of Buckingham, 350 hectares between Stony Stratford, Two Mile Ash and Crownhill, and will eventually comprise 18,000 people in 6,500 new homes, employment and parkland.  The area is split by Calverton Lane, which should be the western extension of H3 Monks Way, into Areas 10 and 11.
According to developer Barratt Homes/David Wilson Homes planning 180 new homes in part of Area 11, it will be linked to the grid road system and will feature a 'link street' or a 'city street' in feeble disguise.  This is the continuation of H2 Millers Way.
Bovis, which is developing part of Area 10, also has a 'city street' which eventually curls round from the V4 to join the V2 and H4.
So although we see claims of 'linkage to the grid system', there are in fact no grid roads there at all in an area that effectively permanently blocks the western approaches of our city.
We've already seen what a disaster 'city streets' are such as Countess Way, the speed-humped, lorry-banned, much-hated, eastern extension of the H7 Chaffron Way and its similar western end, Hayton Way.
Now, in the recent past it seemed there was hope.  I have previously written how the council administration in 2011 renegotiated a 'Collaboration Agreement' with principal owners Redlawn/Gallagher in order to agree significant variations to the original consented scheme.
It secured new network connection principles and an extension of grid roads into the scheme, with protected grid road corridors extending right across it.
The agreement stated: "Grid roads will be extended into the development at V4 junctions with H2 and H3.  These junctions will be roundabouts.  The grid road extensions will initially be constructed as single carriageway, with development set back from the road as elsewhere in Milton Keynes.  The roads will include a landscaped corridor.
Space will be available to both widen these roads and to extend further into the development should the need arise.  Land required to do this will be made available to the council initially as highway verge land or public open space.
The existing V2 grid road will be extended along the reserved corridor west of Grange Farm and will be connected to the WEA transport corridor at a new junction with the H4."
It seemed all was well.  And then Barratt Homes/David Wilson Homes and Bovis started showing their plans in their usual meaningless public consultations.  And – surprise, surprise – not a grid road in site.  Nada.  Nothing.
Where are those Grid Road Reservation Corridors to leave options for future generations?  They were, and are, a distinctive feature of Milton Keynes' masterplan.  Indeed, Milton Keynes Council's policy is now that they should be 80 metres as advised in The Milton Keynes Planning Manual.
The grid road corridor reservation for H2 Millers Way into that area is 27 metres from house front to house front, and that includes front gardens with on-street parking and multiple turnings.
It indicates a complete failure to understand what a grid road is.
The Bovis scheme opposite Crownhill  has 'city street' access to V4 Watling Street but technically no grid road corridor alignment to worry about as it is south of Calverton Lane.  However its 'city street' would be a grid road in all but name as it connects directly the V4, H4 and V2.
What happens when rush hour traffic from 18,000 new residents, visitors plus commuters  try to use it?  What will life be like for those who buy homes on top of that chaos?
The other and continuing scandal is that there are still no pedestrian or redway underpasses into the WEA.  Gallagher say they have given money to the council and it is up to them.  The council says they cannot put them in as it was not in the original planning permission – which overlooks the fact that they own a third of it – and Gallagher are only project managers.
Moving outside the WEA for a moment, Eagle Farm South, near the M1 in the south east of the city – Gallagher again – was approved days ago with between 41-metre and 47-metre grid road reservation (sources vary) corridor even though the council Framework Plan adopted in November 2013 correctly calls for 80 metres.
This disaster has the hands of every recent administration at the council on it. Indeed at the meeting in July of the City Breakfast Club networking group, council leader Peter Marland gave a speech extolling Milton Keynes as a 'can-do' city.
I asked him at the meeting about grid roads in the WEA.  He replied (and I paraphrase) 'It's a can-do city, but we can't do that'.
Why not?  The council still owns a third of the land in the WEA and it has a 'Collaboration Agreement' with Redlawn/Gallagher.  Why, oh why, cannot the councilors who decide these things over three administrations of every political persuasion simply get it right and deliver what the people of Milton Keynes evidently want?
I despair.  Cheerio.
X X X X X
Chairman's July 2014 Blog:
I am fascinated by how we accept English expressions as obvious and are surprised that those of others are differently nonsensical.  Take 'You are trying to pull the wool over my eyes'.  In Russia they say 'You are trying to hang noodles from my ears'.  With the latest instalment of the Midsummer Boulevard East Workshop organised by Milton Keynes Council and Central Milton Keynes Town Council, which Urban Eden is attending, I might be forgiven for thinking my eyes are blinded and my ears hung with noodles.
I previously wrote about last February's three meetings where 'solutions' appeared almost from nowhere.  Suddenly we were told that 'we' wanted to fully pedestrianise Midsummer Boulevard East and knock down the north/south ramps to Secklow Gate bridge making it impassable to traffic.  Er, no.
I attended the opening day of the latest round of talks and was pleased that the ramps will not now be removed thanks both to Urban Eden inputs and outrage but also because of the considerable technical challenges such removal would present.
Nevertheless I remain suspicious of the sleights of hand that are apparently under way. For instance we were told that the event had 'sponsors', all of whom had chipped in £3,000.  That's funny, none of us are getting paid and the so-called 'technical team' (whose names in session one I still don't have despite asking in writing) are probably working for their own vested-interest companies.
So what role do these sponsors really play and how much influence do they wield? They are the council, CMK Town Council, Hermes Real Estate, Australian Super, Hammerson, intu and Milton Keynes Development Partnership.
While the 'technical team' has been revised and I have those names, I am still suspicious that the sponsors – with the possible exception of the town council – have compelling financial incentives to narrow, pedestrianise, extend shopping options and effectively turn Midsummer Boulevard East step by sneaky step into Bluewater shopping centre.
The plans we were presented with – ostensibly an output of our earlier deliberations – show the boulevard being narrowed on its northern face and thecentre:mk being proportionally extended, despite its Grade II listed status, by between six and 18 metres.
It is clear that the intention is that the south side retail offer would be joined to the north side by a series of 'rooms' – areas dedicated to certain activities across an effectively 'closed' boulevard.
These 'rooms' are named in the document as 'covered room', 'active room', 'market room', 'garden room' and 'culture room'.  As part of the 'noodle hanging' exercise, we eager participants are being distracted by how each 'room' would be set up while ignoring the elephant in the room.  How clever.
Where did these ludicrous 'Rooms of Activity and Experience' really come from?  Who will maintain them and where would footfall come from in a largely under-populated town centre?
Cheerio.
X X X X X
Chairman's June 2014 Blog:
MILTON Keynes Council has announced the appointment of a new chief executive.  A couple of simple checks revealed two major financial investigations which mention her name.
Carole Mills is an accountant and is currently deputy chief executive and corporate director for resources at Nottingham City Council.  Previously, she was acting chief executive, yet apparently did not apply for the job full time.
One of the negative articles I discovered was in the Nottingham Post.  In it, she does not come out well: "The city council has agreed an action plan to tackle failings in how it managed a £12 million jobs fund.
"The District Auditor has raised concerns over the mismanagement of the schemes.  Among other matters, the auditor's report said around £5 million of public money had been spent on [the jobs fund] without any evidence of formal decisions being taken.
"She said decisions were "unsafe" and the council failed to comply with its own financial regulations."  It goes on to say that Carole Mills (then Carole Mills-Evans) was the accountable financial officer for the Future Jobs Fund.
I then found an article in Outsource magazine detailing another scandal involving large sums of public money: "Whitehall departments have been criticised for overspending by £500 million on schemes that were actually intended to save money.  None of the schemes looked at had broken even."
Carole Mills-Evans and Nottingham City Council are named and she is quoted again.
My publicising this has caused a firestorm at Milton Keynes Council.  Current chief executive David Hill wrote to me to say I risked losing credibility and respect among senior colleagues at the council.  In a separate letter to me, the three party leaders Andrew Geary, Peter Marland and Douglas McCall said: "Throughout the whole process Carole Mills was the outstanding candidate." However, they failed to state whether due diligence had been concluded.
In the meantime one of our local papers carried this denial: 'Council leader Andrew Geary has backed her appointment – batting away claims in an article in the Nottingham Post that Ms Mills was involved in the failing of a £12 million jobs fund in the city.
'And Nottingham City Council disputed the newspaper's report, saying that Ms Mills "was not the authorised officer for this scheme and had no managerial responsibility for the areas involved".'
So this anonymous quote from Nottingham City Council ends speculation.  Except it does not.  I called the paper and they sent me another article which says this: "According to a copy of the council's submission for funding, the accountable financial officer with responsibility for the Future Jobs Funds scheme was Carole Mills-Evans, the council's deputy chief executive."
I have written back to Cllrs Geary, Marland and McCall and said:  "The flurry of emails and other correspondence you describe was for one simple purpose, and that is to discover whether the council and its recruitment agent has completed a thorough process of due diligence.  If they have, and everyone involved in her selection was aware of the negative stories, and if that candidate was able to prove to your satisfaction that the matters were either not her responsibility or that she had some other convincing explanation, this is the last you will hear from me on this.
"Therefore I have one simple question, for which I believe the people of Milton Keynes are entitled to a reply, and it is this: Were those who played a part in the selection process, namely the 'numerous external stakeholders, council members, other key staff, the full council and those seven elected members conducting a final interview' all made specifically aware of these easily discoverable links between Ms Mills and the '£12 million jobs fund' scandal and the '£500 million shared back office' scandal?"
As I write this column, I have had no reply.
More importantly, I have discovered that the claims by those three that she was the obvious choice might crumble a little under investigation.  For instance, I understand that the full meeting of councillors before the final meeting of the seven who appointed her was very far from unanimously endorsing the candidate in question.  And there were three independent panels which also interviewed the final four candidates.
I know that the Business Panel, made up of local business luminaries, was only provided with the candidates' CVs, was told that references would only be taken up once an appointment had been made and was so unenamoured with Ms Mills that they said she was not of sufficient experience and knowledge for the growth of MK.  Furthermore I understand that they did not recommend the appointment of any of the last four candidates.
I do not know Ms Mills.  I have no opinion of her.  She may make a fine chief executive and be worthy of her £150,000 salary.
However, in order for MK to pick the right candidate, everything relevant must be properly considered.  If it isn't, surely the appointment must be put on hold until it is.
Cheerio.
X X X X X
Chairman's May 2014 Blog:
Sometimes I have to be hard on organisations, usually because they fully deserve it.  And today is just such an occasion.  However, in order that you and I do not dwell too long in the dangerous shadowlands of schadenfreude, I will temper my criticism with some deserved praise so that the gods of karma are sated.
First the bad stuff: Milton Keynes Council, what were you thinking when you relaunched your website www.milton-keynes.gov.uk?  This ill-thought-out replacement, which you seem happy to pretend is fully developed and ready to go out into the world is not even an embryo.  Frankly, I suspect its parents are yet to know each other carnally.  They're probably not even Facebook friends.
So how bad is it?  If you try to find what is coming up for approval at the Development Control committee, you might enter the term 'Development control panel agenda' in the website search engine. Response: 'There are No Search Results for development control panel agenda.'
Let's try 'Development control panel' Response: "There are No Search Results for development control panel".  Pretty much every other combination also fails to locate the agenda, including the term 'Development control committee'.
We at Urban Eden HQ, however, are persistent. And we have found the secret nine-step process which you, like me, may conclude is ludicrously byzantine. Here it is:
1 www.milton-keynes.gov.uk
2 Scroll down to the bottom of the page, click on A-Z of Services.
3 (Ignore D – the committee is not listed.) Click on C.
4 Scroll down to Council Meetings.
5 Click on Council Meetings Information System.
6 Click on Committees (top left).
7 Scroll down to find Development Control, click on the link.
8 On the right, identify the date for the meeting in question and click.
9 A list of relevant documents is displayed.
If you're still sane, enjoy.
That nonsense is not the only problem.  An Urban Eden member tried to renew her bus card using the online service, which included her uploading proof of identity: an image of her passport.  Weeks later, having heard nothing, she phoned.  She was not on the system – her application had not arrived.
So where, she wondered, had the image of her passport gone?  To how many others has this happened?  Does it amount to a loss of personally identifiable information under the terms of data protection legislation?  Should it be reported to the office of the Information Commissioner?
Here, in just one simple step, is my advice to Milton Keynes Council: get your website sorted… please.  Now for the praise…
Firstly, I wrote last year about Cofferidge Close in Stony Stratford and its owner's efforts to plonk down a massive supermarket which might utterly destroy what must be one of the last surviving successful high streets in the country and how its trucks would deliver the coup de grace by clogging up narrow medieval Silver Street.  Planning permission had been refused by Milton Keynes Council but a hugely expensive appeal had been launched.
Parties opposing the appeal were Save Cofferidge Close campaigners, Stony Stratford Town Council and today's bête noir Milton Keynes Council.  As SCC and SSTC were granted equal status to the appellant and Milton Keynes Council as the local planning authority, they were able to bring up factors not previously raised by the council such as traffic flow.
The appeal met for eight days at Stony Stratford's Cock Hotel, where it probably heard a great deal of Bull from the owners' barristers.  The Inspector has now made his decision and I am delighted has rejected the appeal.  Well done Milton Keynes Council and those others, too.
Praise number two: Two councillors have asked for a total rethink on the disaster that is Countess Way (conceived as the eastern extension of H7 Chaffron Way).  Urban Eden predicted that the City Street concept would be disastrous for Milton Keynes and so it has been.  By the time you read this, we should know whether the council has agreed to make changes but nevertheless this is a good sign and praise, once again, must go to the council.
Could it be that the tide is finally turning and sanity is returning to town planning in this unique gem that is Milton Keynes?
Karma is now balanced.  Cheerio.
X X X X X
Chairman's April 2014 Blog:
I recently spoke at Milton Keynes Council's Development Control Committee on behalf of Urban Eden to oppose the outline planning permission for The Point in Midsummer Boulevard.  The building's owners, Hammersons, wished to demolish it and redevelop the site for me-too retail and some unspecified leisure use.
I was not opposing its demolition per se – after all Hammersons has already done a very effective job in managing its obsolescence.  For years, its famous red lights have been extinguished, its steel pyramid and glass ziggurat have been rusting and rotting.  To attempt to save it now would have been the equivalent of Charles Saatchi desperately attempting to preserve his £50,000 investment in Damien Hirst's dead shark by removing the rotting corpse and stretching its skin over a fibreglass frame.  But, as ever, I digress.
So why, I was asking, are the planners recommending approval of what is essentially nothing?  And, despite early indications of support from councillors to my noting that the outline application was contrary to the following policies NPPF paragraphs 60, 61, 64, 69 and 135; Core Strategy policies CS7, CS11 and CS19 and Local Plan policies D2, CC8, CC9 and HE5, I noted that following a short break that support had wavered.
Hammersons then won the day by seven votes to three.  I suspect this is because, despite my valid points, councillors may have learned that without outline planning permission, the owners could have started demolition the following day leaving an ugly hole in the heart of Milton Keynes and with it, they could not.
Yet all is not lost.  The outline planning permission comes hedged around with much that we should be grateful to the planners for.  For instance, Hammersons – or whoever they now sell the more valuable site to – must come up with a detailed Design Code which must come before the development control committee again.  And demolition cannot commence until a contractor to rebuild whatever is eventually approved has been appointed (Clause 5.8).
Interestingly, the planners state this reason for requiring the Design Code: "To ensure that the development… suitably addresses its location at a prominent location within Central Milton Keynes, the setting of the grade II listed shopping building and to ensure that the development is of sufficient quality and standing to offset the loss of The Point, which is a landmark building for MK."
Which is all well and good, but this is where I get a little animated.
It seems that everybody hates the indicative building which is a very poor pastiche of the original.  Is this really the best that the company that created Selfridges in the Bull Ring, Birmingham can do? Or is Milton Keynes not worth the effort, Hammersons?  I confess that in my presentation to the DCC I may have, with apologies, used the term 'pile of steaming poo' to illustrate exactly how I feel about their sorry offering.
It seems to me that the site of The Point is not just important; it is actually at the very centre of our city.  When the centre is completely developed, it will literally be at its very heart; its nub point.
The existing building, although less than 30 years old, was truly iconic.  It was Britain's first multiplex and the first multi-leisure complex of its type in Europe.  Lit up at night, it could be seen as a beacon from miles away, including everyone travelling on the M1, calling people to that new 'dream in a field'… Milton Keynes.
If anything is to replace it, surely it must be iconic too?  Now I've read naysayers claiming that you can't set out to build an icon.  What tosh. Tell that to Frank Gehry architect of the Guggenheim, Bilbao or Renzo Piano, architect of the Shard, London. An icon is what we need and an icon is what Milton Keynes deserves.  If it needs to be tall so that it can once again be seen from the M1, over the more recently completed Xscape building and theatre district, then so be it.  It has its own multi-storey carpark, which is not being demolished, so it's in an ideal position to 'go tall'.
The outline plans talk vaguely about shopping and leisure but let's look at what Milton Keynes really needs.  We have huge midweek demand for hotel rooms and there is no five star hotel and conference centre in our city.  Or perhaps we could have some wholly new concept of a wild-ride indoor theme park (well, this is wet and cold Britain, not Florida).
But whatever we get please, please, please let's have some creative minds coming up with some exciting ideas.
Here's me crossing all my fingers. Cheerio.
X  X  X  X  X
Chairman's March 2014 Blog:
Urban Eden, the organisation I founded, was invited by Milton Keynes Council and Central Milton Keynes Town Council to take part in the important design workshop to "develop guidelines and visions" for Midsummer Boulevard East.
The three-day event was attended by a prestigious elite.  Among the 80-plus delegates was council leader Cllr Andrew Geary, chief executive David Hill and new temporary planning head David Hackforth.
Landlords Hermes, Henderson, Australian Super, Hammersons, Theatre District Management and Intu  – which own and run the shopping buildings and Theatre District  – sent delegates as did bus companies Stagecoach and Arriva and Milton Keynes Development Partnership, which now controls all council-owned development land.
Also around the table were the National Market Traders Federation and other groups including Milton Keynes Parks Trust, Milton Keynes City Centre Management and MK Forum.
In addition to inputs from delegates, there had been two public exhibitions.  The public's thoughts on Midsummer Boulevard East coincided strongly with my own but, given that the hundreds of members of Urban Eden are members of the public, perhaps I should not have been surprised.
Upon arrival, we were allocated to tables of ten participants.  I was split off from my fellow Urban Eden delegate.  Not immediately obvious to us was that there was a select band of people who had been appointed to be members of the 'technical team', comprising mostly experienced planners, town planners etc.  After the sessions they assimilated and integrated the inputs into a more usable form.
I have not been able, despite requesting it twice, to either get a full list of the members of this 'technical team' nor a copy of their exact brief or methodology.
For instance what inputs would they integrate; what would they ignore; how would they choose?
On the first day we worked with large plans of Central Milton Keynes overlaid with tracing paper on which we could write, post notes, even use wooden blocks to illustrate suggestions or aspirations.
Wandering inquisitively from table to table, I was struck how quickly one unexpected element had appeared: demolition of one or both ramps from Midsummer Boulevard East up to Secklow Gate Bridge.  Some parties had decided to demolish transport links over the Gate.  I could not find a single reference to this from the public consultation.
After lunch, we did a 'walkabout' and it was obvious that removing the ramps would mean nothing taller than a cyclist could transit Midsummer Boulevard East under Secklow Gate Bridge.  It is too low for even a single-decker bus.
It seemed ironic, after Urban Edenites fought to save Secklow Gate Bridge from demolition, that it was now being promoted as a way to forever divide Midsummer Boulevard East.
We now have electric buses and instead of a 11-minute detour via Saxon Gate, Avebury Boulevard and Lower Ninth Street, they should be running through the 20-metre wide protected transport corridor in Midsummer Place which Urban Eden fought so hard to preserve at the council's development control committee last year.
If I owned Midsummer Place, I would be desperate to have shoppers coming from the station alighting inside my centre.  But it seems that both the owners Intu and our Luddite council are somehow scared to instigate something that was decreed when Midsummer Boulevard was first cut in half.
Back to the workshop.  Possibly the 'technical team' made certain assumptions based on submissions and incorporated some wishful thinking into the documents requiring a final vote.  Among the points to be voted for on the final day was this exact wording: "Maintain transit route".  It was only by my questioning of the 'technical team' expert on my table that I learned that this meant 'full pedestrianisation'.  When pressed, he implied there would be no reason therefore to keep the ramps west and east of Secklow Gate.
I urgently and publicly pointed this out to the facilitator Dr Jon Cooper, of Oxford Brookes University.  Sadly he insisted on completing the vote before I stood up again to request clarification.
A dominant member of the 'technical team' confirmed that the intention was for 'full pedestrianisation' of Midsummer Boulevard East.  When pressed he confirmed that some non-polluting form of future transport might be included but only "when it is invented".
Alan Francis from MK Bus Users Group reminded him that trams had existed for over 100 years.
I am delighted to have been instrumental in exposing this sleight of mind, whether caused by omission or commission.  Interestingly when I wrote: "Do not narrow the building lines" (or similar) on the plans, they came back to our table with a thick black line through them.  Everyone on my table denied striking this out.
I know that if I had not firstly discovered and secondly single-handedly exposed this 'full pedestrianisation' intention, it would have eventually been enacted as "having been approved by everyone there".
Phew, a bullet dodged.
Apparently a follow-up meeting is being planned.  Given that more than one delegate has verbally attacked me, it will be fascinating to see whether Urban Eden is invited.
I feel that the organisers are damned if they do, and doomed if they don't.  Cheerio.
X  X  X  X  X
Chairman's January 2014 Blog:
WELCOME to another new year. Congratulations to you all… you made it… and so, just, did Milton Keynes. I know that I go on about the place rather a lot but I, like the hundreds of Urban Eden members, rather like it.
I remember the first time I came here. It was to pitch for the public relations contract of the James Hunt Racing Centre. This of course, is now Daytona, itself a client for many years. Anyway, to get back to the story; when we arrived at the site on a bright sunny day, a steam roller was smoothing off the still hot tarmac on the circuit and whisps of steam were twirling slowly into the bright, clear air. Somehow that view, with the ravishing smell of hot tarmac, has stayed with me; somehow signifying a special moment.
We walked around the part of the circuit that had set firm and I remember thinking how extraordinary that such a facility could be right in the centre of this place, a brave new city that has such circuits in it.
The then owner had no finished buildings on site so he kindly took us to The Point for a coffee and a chat about his plans. We did not win the contract for the launch of JHRC, and sadly that business failed. I am too modest to ascribe one to the other but I feel that I got something far more valuable that day; an introduction to this most extraordinary place.
I found a city where you could be in the very heart of town and see only trees. A place where pedestrians and most cyclists were safely separated from motor traffic on redways; where houses were set far back from road edges and where traffic moved fast, freely and can be parked easily.
It was so unlike anywhere I had ever been in the UK and even a step change away from those other new towns; most of them being a bit like the Curate's egg… good in parts.
In contrast, Milton Keynes had somehow magically got it just right.
As a consequence of that impactful first impression, 15 years ago, in September 1998 I bought an office building and moved the company here. I myself moved here to live a few years later. However it was then that I began to notice that the city was changing and not for the better, so just over seven years ago, in November 2006, I founded Urban Eden.
I have often wondered what confluence of judgement, luck, planning, government intent, bloody mindedness and sheer bravado conspired to get Milton Keynes so right. How did those originally in charge obtain such vision and pursue it through thick and thin? Take thecentre:mk as an example. When it was originally planned as that mad idea, a large shopping centre in the middle of a field in the middle of rural Buckinghamshire, we did not have the well established precedents we have now to justify it. There were no large regional shopping centres and only town centres to compare it with.
Yes, the USA had its strip malls but not everything that works there, works here. Look at American football. Or  Twinkies. Or twerking.
Even Healey and Baker, the original retail agents responsible for it, were understandably cautious. Apparently they recommended that it be built in staggered stages. That we start with 200,000 square feet and if successful slowly expand to 500,000sq ft,  perhaps years down the line.
"Sod that," those brave men at the Milton Keynes Development Corpora-tion might have said. "Let's double the size and build it all. Right now." And astonishingly they did. And they were right. Suddenly 1,000,000 square feet of retail reared out of the mud and as we know was an astonishing success from the day Margaret Thatcher declared it open.
The building itself was no throwaway idea either as its recent grade II listing demonstrates. It was inspired by both architect Mies van der Rohe's Crown Hall in Chicago and the visionary plan form of a secondary school at Hunstanton in Norfolk designed by Alison and Peter Smithson. And, with its tinted glass, natural lighting, painted steel columns, travertine marble floors, wide aisles and exotic planting, who doesn't love it?
So what am I trying to say here? I suppose, put simply, it's this. When we had those people at the helm prepared not only to carefully plan, develop and complete their vision against all opposition and obstacles, this place worked – and works – astonishingly well.
Since then, sadly, we have had no one to 'own' or fight for that vision and Milton Keynes has suffered. Sometimes, as in the case of 'city streets', permanently blocked off 'nub ends' of grid roads, or the Hub, it has suffered egregiously.
But I am convinced it is not too late to relight the visionary fire. All we need is someone in a position of power and influence to put their head above the parapet and rekindle the old battle cry that 'only the best will do'.
Who, I wonder, will rise to that challenge in 2014?
Happy new year and cheerio.  Theo.
X  X  X  X  X
Chairman's December Blog:
The public believes the green estate delivered by Milton Keynes Development Corporation to Milton Keynes Parks Trust some 21 years ago to be inalienable. The recorded words by those in authority were unequivocal. Also the trust's Memorandum and Articles specifically quote "to promote, manage and preserve in perpetuity the parks for the benefit of the public."
Recently I advised Urban Eden members to visit the Parks Trust website www.theparkstrust.com/development and click on 'Where are the potential development sites the Parks Trust has identified?'. "You will see the very many green lungs of our city that the Parks Trust has identified as land for disposal," I said. "You may conclude that the Parks Trust is simply concerned about servicing its £30 million debt recently secured against its assets. You may also conclude that this is the thin end of a very big wedge and plain wrong."
In fairness, Urban Eden does not object to the Trust redeveloping commercial sites such as the Suffolk Punch pub at Heelands. However, certain sites such as paddocks and grid road corridors must remain sacrosanct.
Parks Trust chief executive David Foster, has responded to my message to Urban Eden's membership. I quote extracts of his reply and offer my analysis of his comments:
David Foster: "The website link you have sent to your members is nothing new; this information has been publicly available on our website since last year and is updated as appropriate."
TC: This is true. But the people of Milton Keynes were not alerted to this nor were they invited to comment.
DF: "The sites were submitted to the council in January 2012, amount to less than one per cent of our total land and were selected following a careful review to see what bits of our land did not work particularly well as parkland or were of relatively low value as open space, for wildlife, or visually."
TC: The Parks Trust remit is not just about parkland. It manages up to 5,000 acres of river valleys, woodlands, lakesides, parks and landscaped areas alongside the main roads – about 25pc of the new city area. So 1pc is 50 acres, worth more than £50 million for housing. Just 1pc seems so, so reasonable. But then, will it be 3pc next time, then 5pc…?
DF: "We have been clear in all our statements that the sites are areas of land that we feel may have some potential for development and we are committed to working with Milton Keynes Council, parish councils and local communities to investigate what form of development, if any, may be appropriate."
TC: If it is not up for disposal, why list it? I accept that significant change of use may be achieved without actual disposal but the end result is the same.
DF: "It is untrue to say that the Trust is simply concerned about servicing its £30 million debt. The borrowings we have are secured against commercial property we have bought using the loan. The rent from the properties more than covers the interest on the loan. The loan is at a fixed interest rate and the rents are mostly subject to RPI increases."
TC: To my mind, this indicates that the Parks Trust does not need the money from the proposed land sales or developments. But Mr Foster adds: "There are a number of reasons we put the sites forward.  For some sites the main reason is to help us achieve our goal of making the Trust financially sustainable."
To my mind, he is now saying that the Parks Trust does need the money.
DF: "Our fund is not immune to global financial pressures and the forecast of what lump sum is needed to be invested to pay for future liabilities has increased significantly in recent years. In order to be financially robust… we estimate we need an asset base of around £120 million and we currently have £85 million."
"Milton Keynes needs a sound and secure Parks Trust – after all, we look after 25pc of the new city area and have to be totally self-financing. Raising more income from our day-to-day operations; gearing our commercial property portfolio; reviewing our green estate land so as to explore possibilities for development are three ways to make the Trust financially sustainable for the long term."
"In doing so we are acting responsibly and in the best long-term interests of the whole of Milton Keynes."
TC: Again the suggestion that without disposing of precious trust land the Trust is not sustainable. It is the afore-mentioned wedge… and this is the thin end.
DF: "Some sites are proposed so that we can improve the park amenities and attractions in that area…"
TC: I do not recall improving attractions being part of the Parks Trust's remit. In July it acquired, for an undisclosed sum, the Whitecap Leisure businesses including the wakeboarding venture at Willen Lake. These will now be run by the same Parks Trust that lost its shirt on an ill-fated meat retailing venture.
DF: "…Others are proposed to bring into productive use an underused bit of land (that was never intended to be part of the parkland network) left over after the main development."
TC: I do not like this idea of "left over" – what was left over and intended to be developed stayed with the development corporation and was acquired in January by Milton Keynes Council from the Homes & Communities Agency.
DF: "We know the idea of development on some sites is not popular with people living nearby and that is why we wrote last year to all the parish councils to inform them of the sites we had identified in their area and offered to meet with them. Some of these discussions have resulted in sites being withdrawn."
TC: The green estate is everyone's business. We all have a stake in it. Why not ask us, the people of Milton Keynes; its residents, visitors and workers?
DF: "As for this being the thin end of the wedge, this is more scaremongering."
TC: I am proud to be scaremongering if it wakes people up to the threat at our gate. Otherwise it will be a little bit here, a little bit there, and hey presto, everything except contiguous parkland will be gone.
DF: "Our remit is to maintain the parks and landscapes in Milton Keynes for ever."
TC: So do it.
DF: "We have a presumption against development of our green estate."
TC: So don't do it.
DF: "We have pledged there will be no net loss of parkland."
TC: If the people of Manhattan were told that Central Park was to be developed "but don't worry we've bought an equivalent parcel of land in Poughkeepsie", would they accept it? It is the equivalent of what is being suggested here.
DF: "We have acquired more parkland each year and will continue to do so. Along the way we may want to develop a few carefully chosen sites over the next ten years to make the Trust financially viable…"
TC: Once again, an indication that the Parks Trust is not viable without developing the very land it is supposed to protect. It is worrying because the figures with which they are playing are so big. Any mistake will be a very big mistake.
DF: "…but this is all designed to make the Trust stronger and enable us to fulfil our mission."
TC: I do not believe there is any investment safer than land. In its Trustees Report and Financial Statements for 2012/13, the Parks Trust states: "Another element of our strategy is to bring forward some limited development on a few areas of our green estate that we do not consider to be an integral part of the parks system or that are not highly valued by the public."
But how do they know that we, the public, don't highly value them?
The idea for a Parks Trust was and remains a brilliant one and I for one am not prepared to stand by while it breaks its bond of trust with the public. It is time for a properly constituted public debate. I trust the Parks Trust will take notice.
Cheerio.  Theo.
X  X  X  X  X
Chairman's November Blog:
In April I wrote a column headlined 'Victory is a triumph for people power' where I detailed how public action had helped to stop plans to redevelop Cofferidge Close as a large supermarket shoehorned into lovely Stony Stratford.  Following successful efforts to persuade the Secretary of State to confirm Grade II listing of 7-23 Silver Street – the town houses fronting the western boundary of the site and contiguous in design – Milton Keynes Council's development control committee eventually unanimously rejected the plans.
However, I somewhat portentously predicted that those plans might return and, indeed, on the very last day available for appeal – in what the owners must have hoped would be a knockout blow to the solar plexus of the Save Cofferidge Close campaigners – an appeal was filed with the Secretary of State. Readers interested to read the original column can visit www.urbaneden.org and find the headline quoted above in our Press Coverage section.
The reasons given by the council for rejecting the application – and which were presumably the ones they felt could best be defended in any appeal – were:
The size, scale, form and design of the development;
The harm to Cofferidge Close as a heritage asset due to demolition      of a large section;
The loss of an important community facility – a NHS dental practice      – contrary to policy C2 of the Milton Keynes Local Plan 2001-2011.
The campaigners would, I am assured, also have liked to have seen traffic (the appalling prospect of several humongous juggernauts squeezing down medieval Silver Street every single day), parking (involving destruction of ancient apple trees in the existing parking areas) and economic sustainability (including the inevitable commercial destruction of other businesses in Stony Stratford) given as causes for rejection, too.  However they were not and the council is now precluded from bringing up any new reasons, no matter how significant, at the appeals stage.
We do not yet know what grounds the owners will use for their appeal.  However, it is evident that they are prepared to spend eye-watering sums of money on it.  It is already scheduled to last longer than a week and is likely to cost our own council tens if not hundreds of thousands of pounds too.  So we are where we are. Or we were.
The latest news is that both the Save Cofferidge Close campaign and Stony Stratford Town Council, also original objectors to the scheme, have been made parties to the appeal.  So now they both have equal status to the appellant and Milton Keynes Council as the local planning authority.
On the downside, this is a somewhat onerous burden.  Both new parties will have to conduct their case by the rules, which include presenting full Statements of Case and Proofs of Evidence as well as providing full-time attendance at the inquiry and being subject to cross-examination by the owner's no doubt Rottweiler-like barristers.
The upside, however, is very good news.  Both new parties to the appeal have been granted Rule 6 status.  This means they can, if they can convince the inspector of relevance, introduce new evidence different from the main parties: evidence that Milton Keynes Council is precluded from submission.
Please, take it from me: this is not only very significant, it will transform the hearing into a real battle of David versus Goliath with no holds barred.
Meanwhile, as the 'cold war' hots up, there are already signs that the owners are looking to justify their appeal with new research.  Word reaches these ears that a telephone survey is being conducted in the area, by a known firm, which refuses to divulge who it is acting for.
It is asking participants where they do their main grocery shop; how they get there; why they go there; how much they spend and whether they go home afterwards or shop elsewhere locally.
They also were keen to know whether interviewees do a top-up grocery shop; what else they do in Stony Stratford; where they buy furniture, white goods, computers, clothing and DIY; why they choose to shop there.
I have no doubt that, when the appeal starts some time after March next year, we will see a battle royal.  Frankly, my money is still on the good people of Stony Stratford and the good sense of the council.
If we all give in to the bullies of Cofferidge Close, I doubt that Stony Stratford will continue as one of the last surviving examples of a flourishing village high street.  Indeed, if retail guru Mary Portas really wants to see how it should be done, she needs to tap her heels together three times, hail a cab and say "There is no place like Stony Stratford".
Cheerio.  Theo.
X  X  X  X  X
Chairman's October Blog:
IT IS the season of mellow fruitfulness and so this month my column will be both fruitful and mellow. I hope.
Milton Keynes, Bedford and Central Bedfordshire Councils have been awarded money from Broadband Delivery UK, the government body that is spending almost £0.5 billion of public money on next-generation access to superfast broadband and signed a contract with BT Openreach to make it a reality.
Milton Keynes has, until recently, suffered from the paradox of being one of Europe's newest cities while being saddled with among the most Stone Age broadband internet access in the world.  Parts of Milton Keynes had no internet access at all in 2004 and coverage was poor across a swathe from Shenley Lodge and Loughton, through Great Linford, Willen, and Middleton to Old Farm Park.
Where ADSL – asymmetric digital subscriber line, basically broadband through a telephone line – is used, the routing of cables around the grids meant very long runs into the estates and ADSL is distance-limited.  This discrepancy and its consequences have inspired much debate and begat lobby groups such as the Milton Keynes Broadband Action Group.
While the layout of Milton Keynes included ducting and cabling for television, it lacked the capacity to be upgraded to digital.  Cable provider ntl – which merged to become part of the Virgin Media Group in 2006 – approached MKBAG to trial a new wireless broadband solution that ultimately would have provided 10Mbps symmetric DSL (with upload speeds equal to download).  The trial was a success and the feedback from MKBAG members invaluable but ntl's financial issues effectively scuppered the project.
MKBAG and Milton Keynes Council lobbied BT hard to trial the best form of fibre optic connectivity in the city and three years ago this was accomplished in limited areas connected to the Bradwell Abbey exchange.
The system is called Fibre to the Premises: glass fibre cable runs to the user's premises and delivers a guaranteed download minimum speed of 100Mbps.  BT has also developed the cheaper-to-install Fibre to the Cabinet, which most know as BT Infinity.  This involves fibreoptic cable to above-ground green boxes, using the existing copper cable for the 'last mile'.
However, when FTTC is the option of choice, it is vital that that last mile really is over copper cables and much of Milton Keynes used aluminium which, although adequate for speech, is useless for data and meant many phone lines could not use Infinity or even ADSL.
Successful lobbying persuaded BT to replace aluminium for copper in affected estates such as Monkston Park.  However, despite apparent reluctance, BT was also persuaded to extend its costly fibre trial beyond Bradwell Abbey exchange and to bring forward the fibre enablement of Woburn Sands and other exchanges.
Another anomaly is that national planning laws for new estates did not make any requirement for the builders to talk to BT nor to build the ducting for fibre cables – hence some shocking 'not spots' in new developments in Broughton and Walton Grange.  Now a newly awakened council  insists on builders making provision for the fastest available broadband and new estates will be enabled from day one.
The actual figures are secret but those who have studied the subject believe that the take-up of fibre once the infrastructure is in place is very high.  BT has been encouraged to continue its roll-out here and appears to have prioritised Milton Keynes.
It is likely that in the next six months, Milton Keynes will be in excellent shape with its fibre cable infrastructure and BT will be profiting from the take-up rates.  However, there will still be some 'not spots' and we all need to continue lobbying the council to maintain progress.
BT might be justified in claiming we are now at about 95 per cent fibre-enabled. If you are in the 5pc however,  that is not good enough.  Efforts must be redoubled to ensure that some 5,000 houses are not left with appalling connectivity. In theory, this is where the new BDUK money comes in.  We shall see.
All in all, however, it is very good news and Milton Keynes is now well on its way to becoming the best connected city in the UK. Once again, Milton Keynes leads the way for lesser cities to follow.
Cheerio.   Theo.
X  X  X  X  X
Chairman's September Blog:
OH DEAR, oh dear, oh dear…  The legacy of inappropriate development of public land as formerly administered by both a council out of touch with public wants and needs and a defunct English Partnerships and its lap dog Milton Keynes Partnership drags on. Intractable problems remain, spread and grow and come back to haunt us.
Among those problems is the large plot of land opposite the Hub and Vizion in Central Milton Keynes, running down towards the station, known as B4.  It is the last major undeveloped block in CMK and provides an effective gateway to the city for visitors coming by car or rail.
It would provide a perfect site for development which says something about the aspirations and ethos of the city we love.  It might become the home of exciting, sexy and iconic architecture.  Perhaps a new masterpiece by Renzo Piano, Frank Gehry or Zaha Hadid.  I get excited thinking about it.  But this is Milton Keynes and for a few years in the 1990s and early 2000s we lost the plot. During this lacuna in critical thinking, in 2004 plans were submitted to the council to build what is effectively The Hub 2 on the site. In 2008 outline planning permission was, outrageously, granted.
Barratt Homes has acquired part of this land and recently applied for certain reserved matters to be approved; 400 dwellings and 885 sq metres of A1, A2, A3 and B1 commercial space with roads, landscaping and car parking.  These matters were, quite properly, referred to the council's Development Control Committee where elected councillors decided their fate.
Thankfully, our councillors have woken from their two-decade slumber and I hope that Urban Eden and its hundreds of supporters may have played a small part in administering the wake-up call.  Gratifyingly, the committee rejected much of these reserved matter plans.  However, their hands are effectively tied by the original outline consents which haunt us still, like Banquo's ghost.
For a developer, having outline planning permission is a bit like having permission to punch you in the face.  A reserved matters application is a bit like them politely asking which side you would prefer the bruise. Sadly, there is not a 'no bruise' option.
In my view, the plans, with their 11-storey inward looking flats huddled up to Witan Gate and Avebury Boulevard mirror the depressing ugliness over the road.  I can scarcely imagine any company planning to build something which will have passers-by eagerly awaiting its demolition for as long as it stands but my doubts that this is even feasible were tragically assuaged when I first saw the Hub.
In the latest application, it  is particularly galling that the council's planners saw little wrong with the further narrowing of the boulevards and expansion of the building lines.  They appeared to ignore the proposals flying in the face of the council's own CMK Development Framework as well as the inappropriate rejection of the long-established building ideals of CMK.
While we all 'enjoy' this brief flowering of government-assisted mortgages for first time buyers and a resurgence in the buy-to-let market, developers will be keen to throw up buildings as soon and as cheaply as possible.
Expect these plans to be back shortly.  Tweaked yes but essentially still truly awful.  Oh dear, oh dear, oh dear.   Cheerio.  Theo.